Mexican Plum
Prunus Mexicana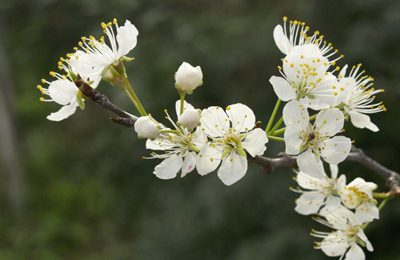 This plant is native to our area. It's a deciduous tree with beautiful, fragrant spring blooms in February and early March. These white flowers, similar to apple flowers, are highly attractive to bees.
It is a Prunus species like other plums, and so it does have similar flowers and it will look similar and have a similar shape. This tree is very small, about 20-25′ tall, so it makes a nice specimen tree in smaller yards.
The branches are thin, and the canopy spreads very wide. It's very open so this tree makes a nice sculptural element in the winter. It also has very interesting bark as it ages. This bark peels and is very dark with stripes so it's a very interesting element as well.
It uses low to medium water, which is also great, takes full sun and – it's rare for a tree – but it also takes light shade. Most any soil type is fine and this tree does have edible fruit from mid-summer through fall. The fruit is dark purple and has a very thick skin so many people like to make jams and jellies out of it instead of eating it fresh.