Beebalm 'Peter's Purple'
Monarda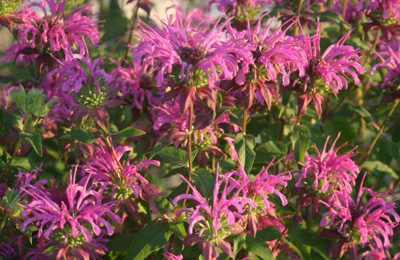 The botanical name is Monarda, commonly called bee balm. There are many native monardas which are great naturalizing perennials for your drought-tough garden in full sun to part shade. They are tolerant of many types of soils.
This one is a new hybrid on the market, so you may have to order it online. Research at the Dallas Arboretum has shown this plant to be extremely resistant to powdery mildew, and that can be a problem for bee balms in some areas.
As its name implies, its light purple flowers attracts bees, but also hummingbirds and butterflies.
The literature on this plant says that it will flower in June and July, but mine flowered in early May and it's still blooming. It's listed as hardy to USDA Zone Six, which is around zero degrees, and I found that to be true this year. I planted mine in the summer last year when they were about 6″ tall and wide, and they didn't grow much. When we had our very hard freeze this winter, those plants were covered in snow and they looked like mush. I thought for sure they were goners, but after the snow melted and the temperatures warmed up just a little, they were growing like gangbusters.
Bee balm shoots up very quickly to about 4′ tall and grows in clumps that get about 2′ wide, so give it plenty of space. Water it a couple times a week during the hottest time of year.