Coneflower
Echinacea purpurea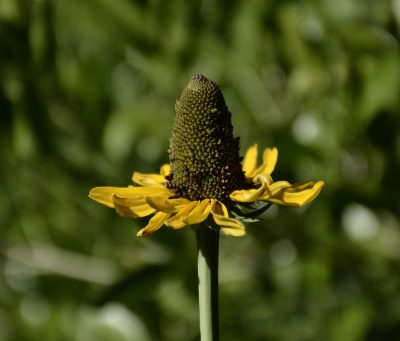 This strikingly pretty perennial is such an easy-care plant, and goes so well with most any landscape style, that it really does deserve a place in every garden.
It loves full sun, but can take bright shade, and is extremely drought-tolerant.
The entire stem grows underground, so be sure to be plant in well-drained soil, not heavy clay, unless you can amend it to be super loose. If you need to do that, use decomposed granite, or other small aggregate substrate. Pea gravel would be too large, and sand too small for most very heavy clay situations, since it can create an even worse situation.
Our specialists at AgriLife Extension have done some research that shows that expanded shale is very good for loosening clay soil.
You'll see on the tag that Echinacea gets up to 3 feet tall, but that includes the flower stalk, which shoots up far above the leaves.
The actual plant is usually around a foot tall and wide. Since they spread quite nicely, they look great planted in groupings of 3 to 5 in pockets of garden beds with other native plants.
The native species Echinacea has light purple ray flowers, which droop slightly and resemble petals, and tiny disk flowers, which create the cone-shaped center, from which this plant gets its common name. That central cone creates the very small seeds that are a great fruit source for songbirds. It also attracts bees and butterflies.
Echinacea a must-have plant in any wildlife garden. If you're adventurous, there are also other Echinacea cultivars with more striking flower colors, from white to lime green, although these plants are usually not as hardy, and sometimes peter-out after an especially harsh summer.
You can plant Echinacea from seed, but it's easier to get 4 inch containers, or dormant rhizomes, and plant in early spring or fall.