Satsuma 'Orange Frost'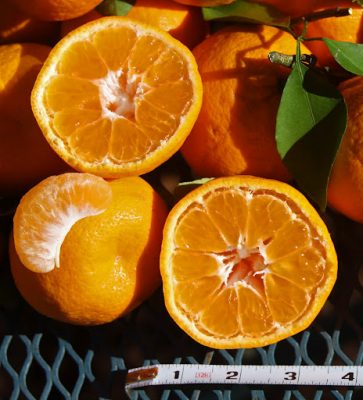 Thanks to Larry Stein from the Texas A&M AgriLife Extension Service for this picture of a new cold hardy satsuma orange cultivar 'Orange Frost.'
This great addition to our satsuma mandarin choices is a brand new Texas Superstar plant that our AgriLife researchers have been trialing for a few years now.
'Orange Frost' mandarin is a hybrid cross between a very seedy but cold hardy, Changsha tangerine and a very high quality Satsuma.
The fruit is very sweet, easy to peel, and only has one or two seeds per fruit.
More importantly, the tree has more cold hardiness than satsuma, so once established, it will tolerate more cold, meaning that it can be planted in the landscape a bit further north than other citrus.
'Orange Frost' has proven to be reliably hardy in zone 8, which includes Central Texas. But for the first few years, when the tree is young and getting established, you'll need to protect it during the winter.
'Orange Frost' needs full-day sun to perform and fruit well. And it gets only 8 to 10 feet tall, making the fruit easy to harvest. But it can also get 8 to 10 feet wide, so be sure to give it plenty of space to spread out. Be sure that the soil has good drainage. And don't plant until after ALL danger of frost has passed. For good growth and a bountiful harvest, water regularly and fertilize monthly during the growing season.
As with other citrus trees, 'Orange Frost' satsuma is evergreen, and if it DOES get bitten by the cold, the good news is that it isn't grafted, meaning that it will come back true if it has to regrow from the roots. This tree will also work well in containers.