10 new Summer Annuals Honored with the FlameProof award from the Dallas Arboretum Trials Program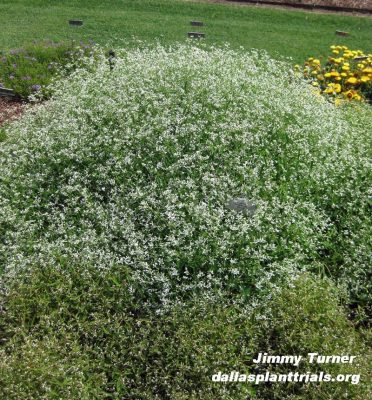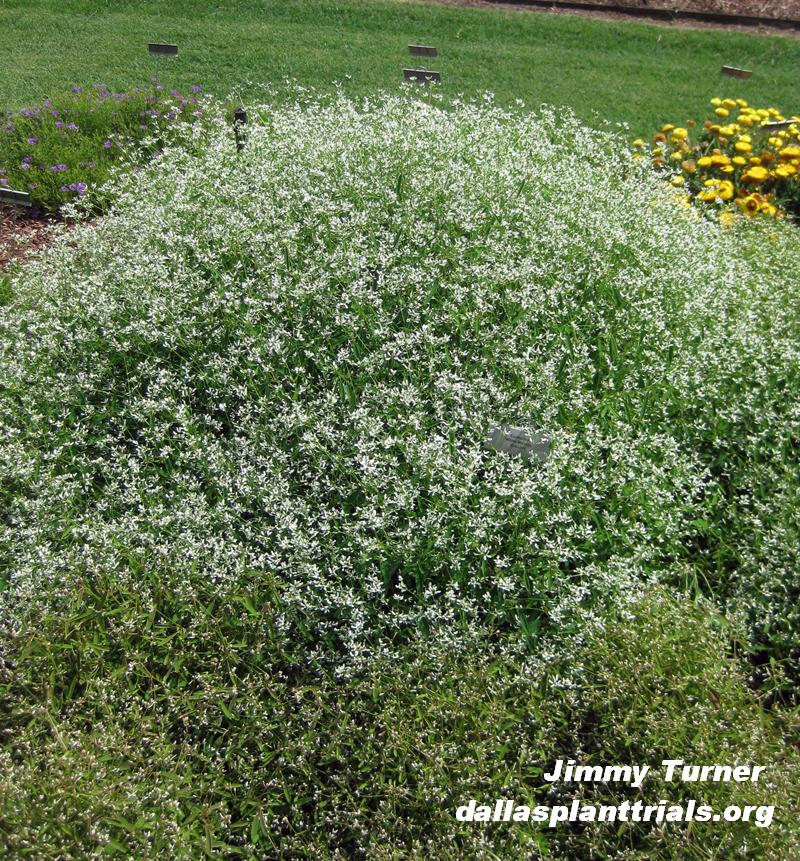 The Dallas Arboretum Plant Trials program tests over 3 thousand plant varieties each year searching for the best ones for our unique climate. It takes a tough plant to handle our summers and do it looking good! When we do find a plant that can handle our tough climate we honor it with our coveted "FlameProof" award. This award is reserved for those plants that can take the TEXAS heat, only plants which not only survive, but thrive on our blistering, burning, blast furnace of a summer. If you're looking for a plant that will flourish in our hot tropical summers then look no further. These winners will look great in your garden from May right up until first frost.
Coleus 'Royal Glissade'– This new coleus was outstanding in our trials in 2009. Large leaves of Raspberry-rose are frosted with jade and golden green tones. Vigorous and fast growing plants quickly reach 3 to 4 ft. in our climate and can grow in full sun to light shade. This variety does not flower.
Euphorbia hybrid 'White Manaus' A few years back Euphorbia 'Diamond Frost' was introduced to the trade, and it quickly was awarded FlameProof Plant status in our trial garden. Last year we found another variety of this versatile plant that we like even more for large areas. 'White Manaus' grows to about twice the size (2ft.) and the small flowers are a brighter white. Mix it with penta, lantana, impatiens or any other plant for an elegant look. Plant in full sun to light shade.
Gaillardia pulchella 'Razzle Dazzle' This seed grown annual gaillardia is really just an improved version of our native Gaillardia pulchella, more commonly called Indian blanket or firewheel. 2″ super double flowers in every shade of pink, rose, purple, cream, red and yellow all summer long in the hottest sunniest place you have. A great plant for xeri-scape gardens.
Gerbera hyrbrid 'Drakensberg Daisy' series This Gerber daisy was bred to perform as a landscape plant in full sun. Dark green mounds of foliage sprouted 18″ tall spikes of classic Gerber flowers all summer long, right up to the first hard frost. We were very surprised at the toughness and performance of this plant. It has completely changed our opinion of Gerber Daisies! It is available in 5 colors; Buttermilk, Carmine, Orange, Pink and White.
Gomphrena 'Fireworks' – This isn't like any Gomphrena you have ever grown! Super fast growing plants grow to 4 ft across and 5 ft. tall. The bright magenta-pink golf-ball sized flower heads wave in the breeze at the end of long stems. Super heat tolerance and doesn't need much water. Great for the back of beds or as a WOW plant in containers.
Lobularia 'Snow Princess' – This is a new hybrid form of Alyssum that shocked us with it's heat tolerance, vigor, and flower power. Each plant quickly grew to 3 ft. across, and in containers they hung more then 2ft. over the side! Completely covered in a frosting of white sweetly scented flowers even through the infernal heat of a Texas Summer. This plant does require regular watering to keep growing, but who ever thought we'd find an Alyssum to survive past June in Texas!
Ornamental Pepper 'Purple Flash' If you can't grow a pepper in Texas then you really do have a "black thumb". This new variety stands out in the landscape due to its amazing foliage of ebony, vivid violet, and purple streaked with pure white. You can see this pepper doing 60 mph! If that wasn't showy enough the plant is almost always crowned with marble-sized glossy black peppers. Grow in full sun and the plants will spread to 18″ and 12″ tall.
Salvia 'Wendy's Wish' – If ever there was a Salvia I would wish there was, this would be the Salvia I wished for! WOW! is what everyone immediately said upon seeing this new annual in the trial garden. 4 ft. tall plants covered in spikes of glowing fuchsia-purple flowers from spring until first frost. It's a blooming beast that I will be planting all over the arboretum this year.
Zea perennis 'Winning Streak' This ornamental variegated corn caught me by surprise. The large bright-green strap like leaves are streaked with pure white. Plants quickly form 3ft. wide clumps that only grow to 2 1/2 ft. tall. Incredible in mass or in containers. Try mixing it with black elephant ears for a really striking combination.
Zinnia haageana 'Aztec Sunset'- 12″ mounds of disease resistant foliage produce 2″ wide double flowers in shades of red, orange, yellow, cream and rose, with many of them bi-colored. Easy to grow in full sun and flowered all summer long!
For a complete list of our FlameProof Plant awards please visit our Trial Garden Website at www.DallasPlantTrials.org or www.FlameProofPlants.org.
As our tag line says "Trial by Flower! If we can't kill it, no one can!"