Agarita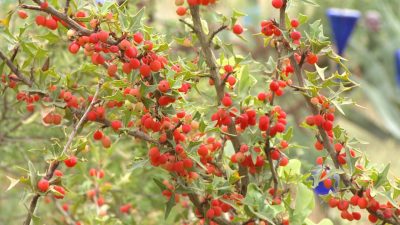 Also known as Berberis trifoliata, this rounded shrub has leathery, spiky, holly-like foliage, though the leaves are more gray-green than the deep green of holly.
It's evergreen and has no problem surviving our winters or our summers here in Central Texas. This plant is as tough as it looks and although it thrives in the full sun, it also does just fine in a bit of afternoon shade.
Do give it good drainage.
It can get a little monstrous, up to 6′ tall and wide, and even bigger if rain is plentiful, so give it plenty of room to spread.
The delicate yellow flowers appear in late winter and cover the plant from February until as late as April, depending on how cold our winter is and how late our last frost arrives.
Flowers are followed by bright red berries from about May through July, which are a great source of food for any wildlife and birds in the area. You can also harvest the berries and use them to make jelly.
Birds love the berries but it is deer resistant.