Bearded Iris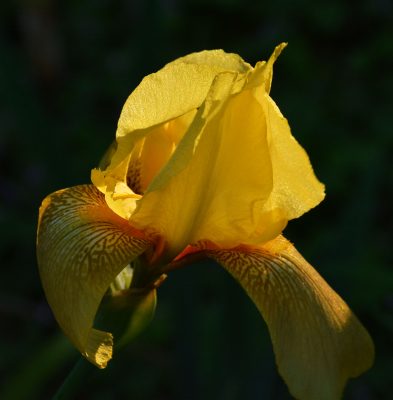 Bearded iris bring evergreen, drought-tough structure to the garden all year long. These heirloom plants are prized, too, for springtime blooms in countless colors and markings.
A common question is: how do I get them to bloom? For one thing, overcrowding can impede bloom performance. September and October is the perfect time to divide and fertilize them with a 6-10-10 or similar ratio granular product. Fertilize again in February and May.  Cut off any rotten or holey rhizomes when dividing.
Bearded irises want at least six hours of sun, preferably in morning and early afternoon. They will grow in shade but blooms will be sparse, if any.
Well-drained soil is important, as these plants grow from succulent, underground stems, called rhizomes, which will rot if the soil stays too wet. Irrigate deeply but infrequently, especially in summer.
When planting, place the rhizome very close to the top of the soil, placing them anywhere from eight to twelve inches apart. The closer together they're planted, the more massive the effect, but also the sooner they'll get overcrowded and need to be dug and divided.