Butterfly and Bee Plants: Doug Green Plant List
Butterflies, bees and birds flock to a deer-protected plant and pond habitat, a haven for Ingrid and Doug Green.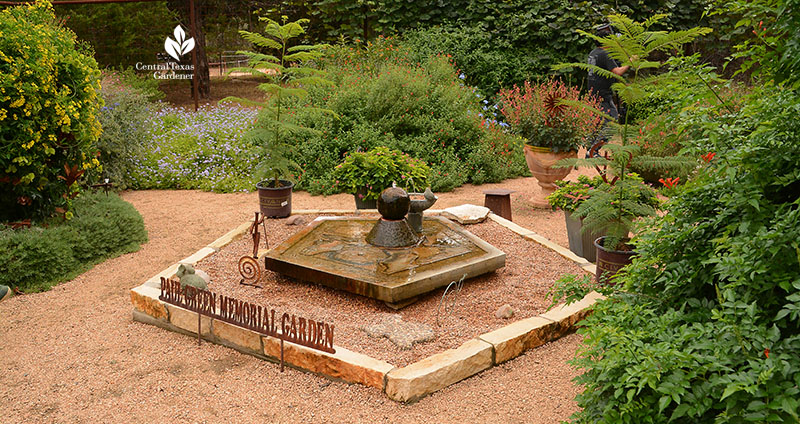 Since the vast property is home to deer, Doug built a hexagon open enclosure filled with pollinator plants for all seasons, arranged around an artistic, hexagon pond.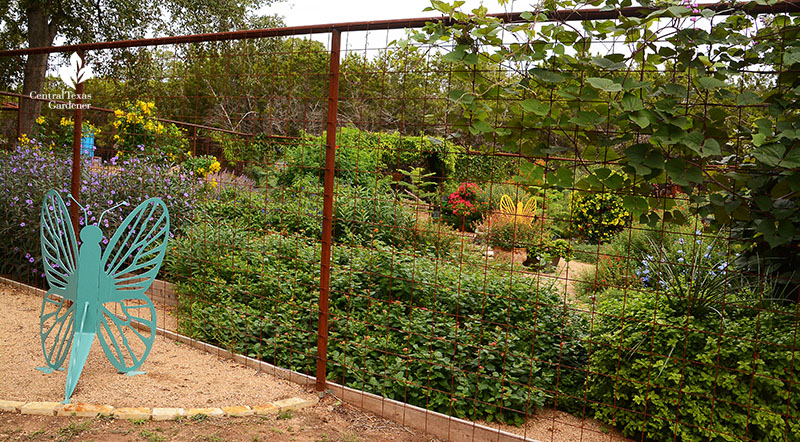 Partial plant list
Salvias
Salvia coccinea (N) self-seeding annual
Salvia greggii (N)
Salvia guaranitica 'Black and Blue'
Salvia 'Hotlips' (N hybrid)
Perennials
Guara (white and pink) (N + hybrid)
Batface cuphea (may be annual)
Caryopteris 'Dark Knight'
Mexican honeysuckle (Justicia spicigera)
Coreopsis (hybrid)
Coneflower (N)
Gregg's mistflower (Conoclinium greggii) (N)
Shrubby boneset (Ageratina havanensis) (N)
Pink skullcap
Bulbine (may be annual)
Dianthus
Russian sage
Bee balm
Plumbago
Ruellia (N)
Teucrium majoricum 'Mediterranean Carpet'
Tropical milkweed (may be annual)
'Homestead' verbena (may be annual)
Duranta
Hamelia patens (N)
Rock rose (Pavonia lasiopetala) (N)
Pride of Barbados
Esperanza (N hybrids)
'Sparklette'
'Gold Star'
'Bells of Fire'
Vines
Passion vine
Evergreen wisteria
Crossvine 'Tangerine Dream' (N hybrid)
Butterfly vine (Mascagnia macroptera)
Purple hyacinth bean (annual)
Mustang grape
Cape honeysuckle
Trees
Mexican buckeye (N)
Senna
Warm weather annuals
Delosperma ice plant (may return after winter)
Penta
Euryops
Succulent
Yucca 'Brakelights' (N Hesperaloe hybrid)
Watch now!