Dwarf Pittosporum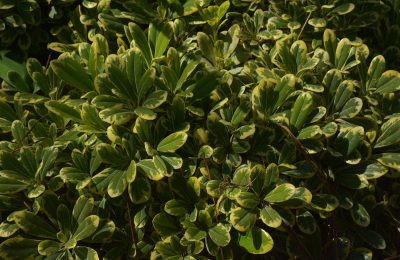 Dwarf pittosporum is also known as mock orange, for the lovely fragrance of its flowers. It's a wonderful evergreen plant for shade to make a low-growing hedge around porches and patios, where you might want a little bit of privacy, but you'd still like to be able to see over them.
While larger pittosporum cultivars can get very large and may need a lot of pruning, the dwarf ones get only 2 to 3 feet tall and wide. I planted 'Mojo' in the bed along my front porch, but 'Cream de Mint' is another great dwarf cultivar.
Mine have only grown about 3 inches in the year since they've been planted, so I'll need some patience while they're growing. But that patience will pay off someday, when I'm enjoying a glass of iced tea behind my lovely little privacy screen, rather than out in the garden pruning it.
Pittosporum do best in at least some shade, and may struggle if planted in full sun. As with most shade plants, they like a little more water, so add some compost to planting beds to help retain moisture. Watering deeply once a week, or even less once established, will be just fine for this shrub, which is actually very drought-tolerant.
Pittosporum are very hardy, listed down to zone 7. Mine had just started putting on new growth when we got a late-season frost this year, but the tender new leaves weren't damaged at all. Be sure to plant close mock orange close-by, so that you can enjoy its heavenly fragrance in the spring.