Eggplant: Trisha Shirey
All About Eggplant with Trisha Shirey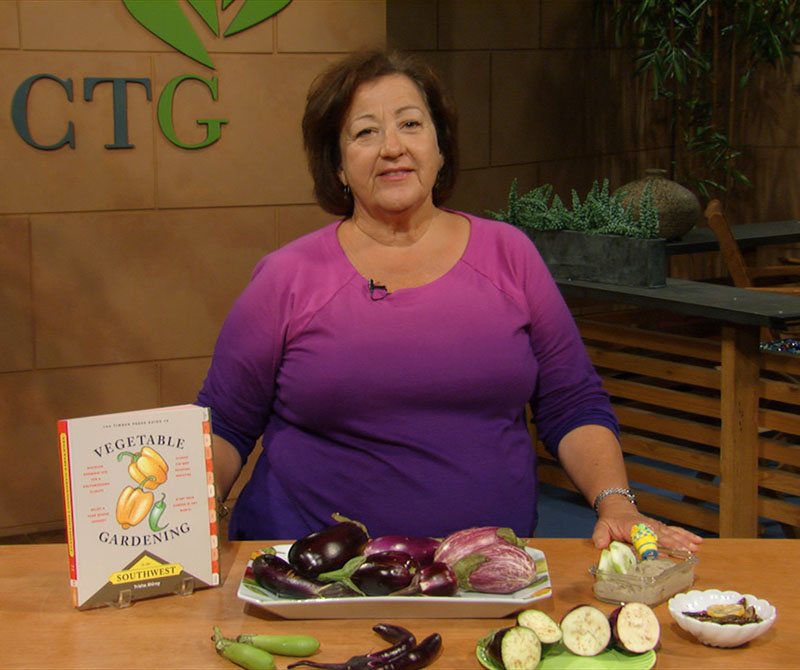 Eggplant comes in all sizes, shapes and colors. Some are white and some are even bright red or orange when ripe.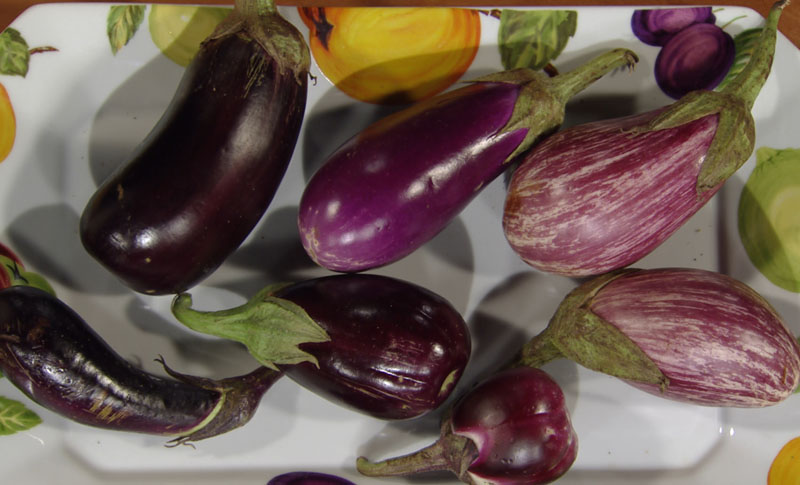 • Black Beauty is the most common, but there are many others.
• Nadia is my favorite. Flesh is much whiter, milder, fewer seeds.
• Graffiti also has whiter flesh, mild flavor.
• Japanese eggplant are also mild, ideal for slicing in half and then grilling.
• Try some of the tiny eggplants like Fairy Tale and Little Fingers. Their small size makes them perfect for grilling and broiling.
How to Grow Eggplant
Like okra, eggplant thrives in the heat. Wait until temperatures are quite warm before planting eggplant or provide them with extra protection, like we do with tomatoes, to give them a head start. I usually wait until late April or May to plant them.
In summer's most brutal heat, fruits may be much smaller, but will gain in size as temperatures cool down in late summer and early fall. Eggplant will continue to produce until nights get cooler.
In mild winters, I have cut the plants back and they returned in spring from the roots. They start producing fruit much more quickly because they already have large root systems.
Eggplant likes a well-drained, nutrient-rich soil. You can even grow them in large containers.
If they stop blooming, try giving them seaweed or compost tea with a couple of tablespoons of Epsom salts.
Harvest while still shiny and soft. Hard or firm texture means old eggplant which can be bitter.
Leave outside the refrigerator for up to a week for storage. Like tomatoes, the texture is best if not refrigerated.
Eggplant Recipes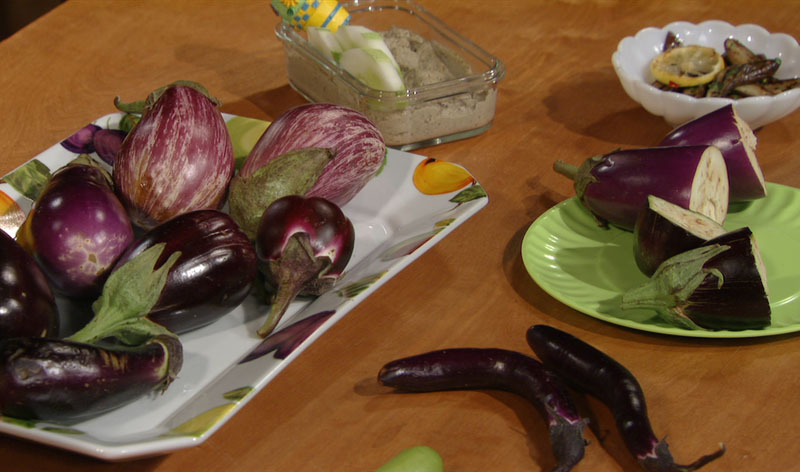 Appetizer
1 green or red sweet pepper, diced
1 medium onion, diced
2 cloves garlic, minced
2 tablespoon olive oil
1 large eggplant, cubed (no need to peel)
8 ounces tomato sauce
Salt and pepper to taste
1 tablespoon minced fresh basil
2 teaspoon minced fresh oregano
¼ cup sliced green olives
Sauté the onion and pepper in olive oil until tender. Add the eggplant and garlic and sauté, stirring frequently, for about 10 minutes. Add remaining ingredients, except olives, cover and cook for about 30 minutes. Add olives, adjust seasonings and serve warm or chilled.
Great served as an appetizer with garlic toast. Top them before serving with some shredded Parmesan or Romano cheese. This could also be served as a side dish or with pasta, rice or couscous for a vegetarian entrée. It freezes well.
*Add a cup of diced zucchini or yellow squash if you have it. A tablespoon of capers added is a nice touch also.
Easy Grilled Eggplant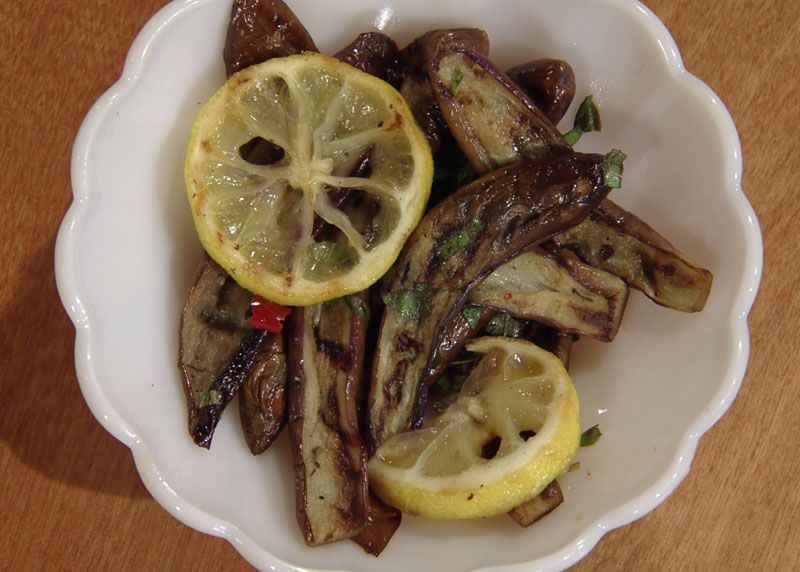 Slice eggplant in thin slices, brush with olive oil and grill for about 5 minutes. Remove from heat and drizzle with more oil, a pinch of red pepper flakes, minced garlic to taste and thinly sliced basil leaves. Toss together and serve with pasta, add to sandwiches or as a side dish.
Baba Ghanoush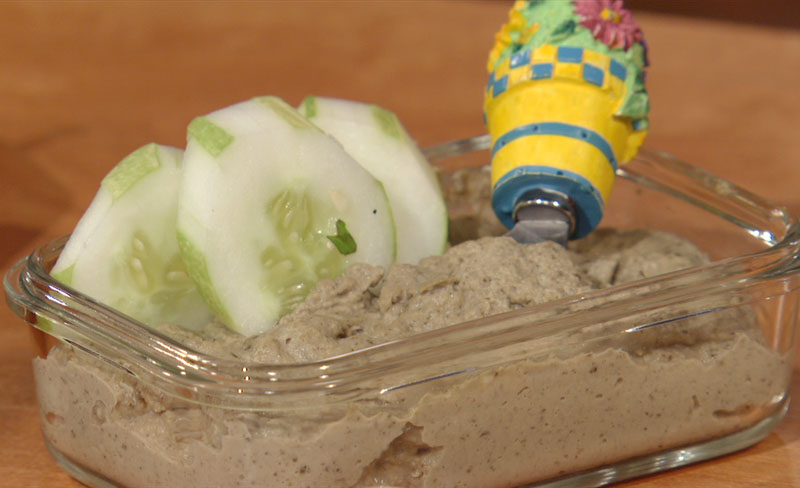 1 large eggplant
2 to 3 garlic cloves, unpeeled
¼ cup sesame tahini* (sesame seed butter)
3 tablespoons fresh lemon juice
Salt to taste
1/8 teaspoon cayenne pepper
Cut the eggplant in half, brush with olive oil and roast on a grill or under a broiler for 10 to 15 minutes until slightly charred and softened. Oil the garlic cloves and tuck them under the eggplant to keep them from burning. Cool to room temperature.
Scoop out the eggplant from the peel and squeeze the garlic from the skins and add to the processor. Add remaining ingredients and puree until smooth.
Serve with toasted pita bread or crackers. Also good with cucumber slices, carrots and celery sticks.
*2 tablespoon of low fat mayonnaise may be substituted for the tahini
Eggplant and Basil Cheese Casserole

1 large or 2 small eggplant, sliced ½ inch thick
2 large tomatoes, peeled, seeded, chopped and drained (canned Roma tomatoes may be used)
½ cup part-skim ricotta cheese
2 egg whites
2 cloves garlic, minced
1/8 teaspoon cayenne pepper
½ cup freshly grated Parmesan cheese, divided
12 to 15 large basil leaves
¼ cup whole wheat bread crumbs
Spray a cookie sheet with nonstick spray and place eggplant slices on it in a single layer. Broil until golden, turn and broil other side. Set aside.
Combine ricotta, egg whites, garlic, cayenne and ¼ cup of the Parmesan cheese
Spray an 8 by 8 inch glass baking dish with nonstick spray. Place a single layer of eggplant in the bottom. Cover the eggplant with whole basil leaves. Spoon half the cheese mixture over the basil leaves and top with half of the tomatoes. Make a second layer of eggplant, then basil, tomatoes and finish with the cheese mixture. Top with remaining Parmesan cheese. Cover and bake at 350 degrees for 30 minutes, uncover and bake 10 minutes more until browned and bubbling. Serve hot.
Serves 6-8.