Firespike
Odontonema Strictum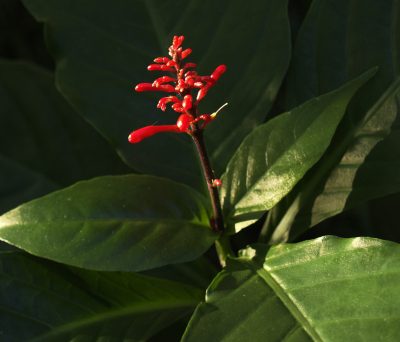 This plant for shade is absolutely gorgeous! Many of our shade tolerant plants have small flowers, or even none at all. But firespike, with its fire-red late season blooms, is a real gem. Even when it's not in flower, the glossy green leaves are a site to behold.
Firespike is cold-tender, so we want to plant it well after the last freeze date when soils are warm.
Since it's frost-sensitive, you may lose it during the winter and treat it as an annual. But if planted in a protected area, or in a container, it will be evergreen and get up to 4 feet tall. As with most shade plants, firespike likes a little extra water in the heat of summer. And just a little boost of fertilizer in late summer will help produce larger, taller flower spikes.
If it does freeze back in harsh winters, don't be too fast to dig it up. Once soil temperatures warm up again, it will usually pop back out. Simply cut back the frozen foliage and be patient.