Gaura Lindheimeri
Gaura lindheimeri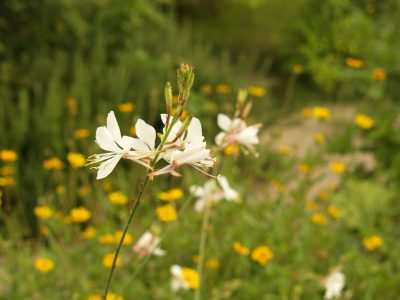 This native perennial adds a billowy shape to our gardens, topped by small white flowers late spring through summer.
Gauras require very little water; in fact, they don't like to be overwatered. Like many of our drought-resistant plants, it prefers well-drained soil. It gets about 3 feet wide and 2 to 3 feet tall, with the flower spikes.
They like a sunny spot but also can take part shade. They're also difficult to move once established, so try not to transplant them once they're settled in to your landscape. They have a very long taproot that is almost impossible not to break.
The flowers open white and develop a lovely pink blush as they age. There are four petals, all on top, which fold back a bit, resembling a butterfly, and the plant is covered in flowers almost all summer long.
There is also a pink one, 'Siskiyou Pink'.
It's best to shear them to the ground in winter, so that all new growth emerges in the spring. The plants will be stockier and less floppy if you do. You may also want to shear it a bit during the growing season, if it starts to look a little scruffy.