Iris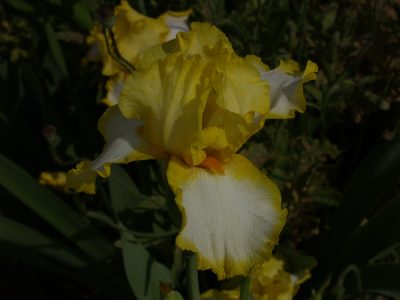 Iris is a super tough, drought-tolerant genus of plants, with many species, that do fabulously well in Central Texas gardens. And they're virtually indestructible, making them the perfect plant for both beginning gardeners, who need some successes to boost their confidence, and more seasoned folks, who need at least one or two garden beds to be easy-care.
Irises are available in almost every color in the rainbow, from vibrant, glaring purples and yellows to the most muted lavenders, creams, and blues. And with so many different sizes, colors and types to choose from, it will be very difficult not to end up planting more Iris than you had planned on.
Bearded Irises are perhaps the most familiar to most people, but there are also German, Siberian, Japanese, and Louisiana Irises. Some grow best in full sun, while others need a bit of shade. And some Irises, such as Siberian and Louisiana, prefer boggy, soggy soil. So if you have heavy clay, these plants may be perfect for you.
Although gorgeous, Iris blooms don't last long, but the foliage is beautiful too, providing a nice sculptural element to the landscape. Like roses, Irises are an old-fashioned plant. Growing from a large underground stem, Irises are very easy to divide and pass along. The non-boggy species require very little water to survive and thrive.
Irises are perennial, so they'll go dormant in early winter. In winter, be sure to cut the leaves of your Iris completely to the ground, and clean away any garden debris in your iris beds. Slugs, snails, and a whole host of insect larvae will happily overwinter in leaf matter, just waiting to munch on all the stored carbohydrates in your lovely Iris rhizomes, before they have a chance to grow and sprout with warmer temperatures.