Kangaroo Paw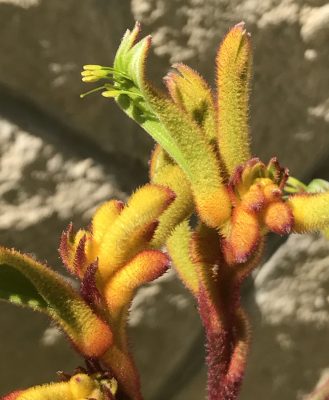 Anigozanthos spp.
Our plant of the week, kangaroo paw, comes from KLRN San Antonio viewer Janet Morrow. She reports that this Australian plant does quite well for her in containers and in the ground. Listed as hardy only to Zone 10, Janet reports that they may or may not come back after winter in her Zone 9A garden, though hers have returned when pruned to the ground in winter, treating them as a perennial.
Kangaroo paw needs full sun, good drainage, and very little water. There are many varieties of sizes and colors. Some may get to six feet tall in other climates, like California, but Janet's are smaller ones which she jokingly calls "Wallaby Paws."
Kangaroo paw bears tubular velvety flowers that spike from grassy foliage. Janet tells us that they bloom continuously in warm weather if you remove spent flower stalks from the base. Hummingbirds and butterflies love them, and they also make long-lasting cut flowers.