Lamb's Ears
Stachys Byzantina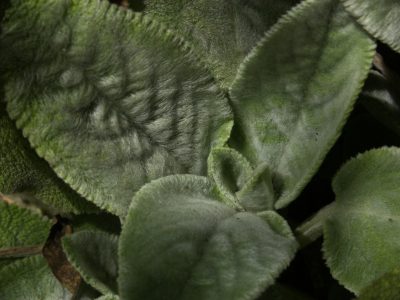 Lamb's ears is a ground-level perennial, admired for its silvery color and fuzzy texture. It loves hot, arid conditions, perfect for a waterwise garden.
Its fuzzy, floppy foliage complements taller or spikier plants that don't need much water. It's a perfect foil to lots of green and pairs wonderfully with any color. It's grown for its foliage but you may get a few flower spikes in summer.
Lamb's ears are perennial and are easy care plants in Central Texas landscapes. Although listed as full sun, they will do best in hotter climates if protected from the intense heat of the late afternoon.
Plant in in well-drained soil. They may rot in heavy clay soils, especially during cold, wet winters. And adding a little compost to planting beds if you can, would be a good idea. Being perennial, the top portion of the plant will die back in late fall or early winter, so give them a good pruning after you notice they top growth is dead. These gorgeous little wooly plants can tolerate cold temperatures well below freezing, so the roots don't need much protection in winter. Getting only 6 to 8 inches tall and a foot wide, Lamb's ears make great border plants in the front of garden beds.