Lindheimer's Muhly
Muhlenbergia lindheimeri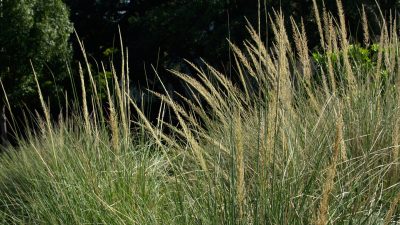 This gorgeous ornamental grass is native only in the Edwards Plateau region of Central Texas, but has become widely used in the nursery trade. And for good reason: the sharp bluish-gray foliage and seed heads create a striking addition to any garden. These perennial ornamentals look especially at home in a xeriscape, planted with other low water-use plants like blackfoot daisy and Copper Canyon daisies.
The plant itself gets only 2 to 3 feet tall and wide, but once it's in bloom, the flowers spikes can extend that another 2 to 3 feet. Since they fill in quite nicely all the way to the ground, Lindheimer's muhly, also known as big muhly, creates a very nice screen when planted in a hedge row.
Big muhly is native to dry prairies and rocky outcrops, but it can tolerate a little extra moisture if rainfall is high and your soil is a bit heavy. It easily thrives in the full, hot sun with very little water, so once established, you can virtually ignore this plant.
The native species have lovely pale-gray inflorescences, which are called panicles in grasses. Improved varieties with pale yellow and even reddish panicles are also available. One of the most popular is 'Regal Mist,' with deep pinkish-red flower spikes that develop in the late summer and add color to the garden into early winter, when most plants are going dormant and their color is fading. The fine, uniquely colored foliage also adds textural interest to the garden, in addition to color. Place big muhly in conspicuous areas of the garden, near walkways or in borders, and allow it to shine as sculptural element, all year long.
In winter, it will go dormant. Do leave it as long as you can, because it provides protection for overwintering butterflies and other creatures. In February, go ahead and cut it back to make way for new growth. Toss the old leaves in the compost pile. Very quickly, birds will gather them to line their nests