Oakleaf Hydrangea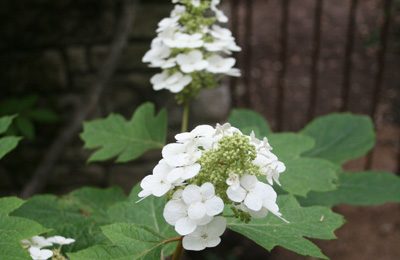 Thanks to Robin Mayfield for suggesting this great plant for shade. Unlike other hydrangeas, Oak Leafdoesvery well here. This is a shrub-type hydrangea that works wonderfully in shade. It has large, oak-shaped leaves that are 4-12 inches long. It has beautiful, cone-shaped clusters of bright white flowers, and the color doesn't vary with our pH. It's native to the southeastern U.S. in woodsy areas.
It's quite a large shrub with multiple stems, and it can get 6-10 feet tall, and equally as wide. Morning sun is best for flowering, but it will take full shade, though the leaves will be the main interest in full shade. In dense shade, the leaves will be much larger and deeper green, the plant will be taller and it won't have as many flowers.
It's a deciduous plant. In fall, the leaves that turn bronze remain on the plant into the early winter.
It's hardy to below zero, but it also tolerates our heat. But in the extreme heat that we had two summers ago and this last August, if it was planted in full sun, it would have suffered.
It doesn't like wet feet, so plant it where you have good drainage. But be sure to water it when we do have a drought situation.