Pink Fairy Duster
Calliandra Eriophylla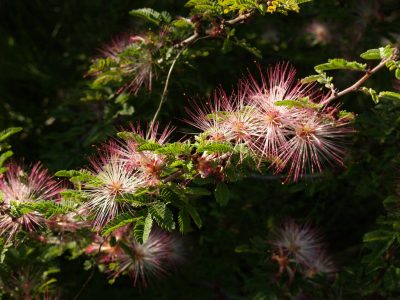 This beautiful little West Texas native shrub with its dense branching habit and tiny leaflets is often referred to as straggly. But in the spring and summer when it's covered with hundreds of puffy pink flowers and lots of pollinating bees, you'll discover why it's such a beautiful addition to your landscape.
It does best in rocky, gravely soil, so if you have plenty of heavy clay soil this plant won't do as well for you. It also needs the full bright sun to perform well and be happy.
Pink fairy duster gets about 3′ tall and wide, so give it plenty of space. Although it may remain evergreen in areas where winters are very warm, it's deciduous in Central Texas. Pink fairy duster won't need any supplemental irrigation if we're getting even small amounts of rainfall, but if we have a particularly long dry spell during the hottest part of summer it will benefit from a little extra water once a week or so.
Red Fairy Duster or Baja Fairy Duster (Calliandra californica) is another drought-tough variety for well-drained sunny soils. Both attract many pollinators and hummingbirds! It is deer resistant.