Rock Penstemon
Penstemon baccharifolius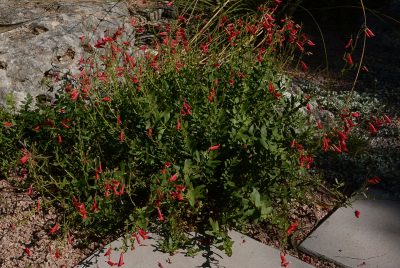 Perennial rock penstemon is an extremely xeric perennial that grows to about 1.5' tall and wide in full sun to part shade.
Native to areas with rocky limestone outcrops and virtually non-existent soil, it will not last long in good, fertile soil or heavy clay.
But if you've installed a dry creek bed or rain garden, with mostly rock, or if you've installed xeric areas with decomposed granite or gravel and elevated berms, you can be successful with this gorgeous plant. Many people are installing these types of areas now, and many of our viewers that live in western areas naturally have the perfect rocky setting for this and other xeric plants to thrive.
Water sparingly in extreme drought.
Blooming spring through summer, rock penstemon's bright red tubular flowers attract hummingbirds. It dies to the ground most winters. Even if it doesn't, shearing completely each year, in very early spring, will reinvigorate the plant and encourage more vigorous and robust growth.
Not deer resistant.