Shade Plant List by Jon Hutson Tillery Street Plant Company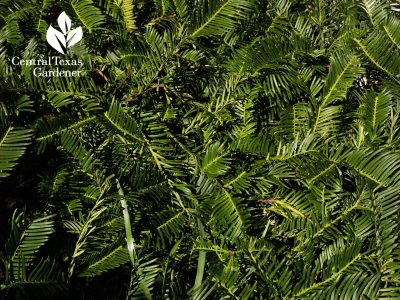 Cephalotaxus harringtonia 'Duke Gardens'. Z 6-9. China. (Plum Yew) Low growing, 30″ tall by 60″ wide with evergreen dark green needle like foliage. A fantastic textural plant that thrives in in quite dense shade. It handles far colder temperatures than central Texas can throw at it and can handle the heat as well provided it stays out of late day sun. Requires moderate water. The best description I have heard of this plant was " imagine a normal yew that has been stepped on by an elephant." It is commonly thought of as deer resistant in most areas."
Piper auritum ( Hoja Santa, Root Beer Plant) to 6′. Central America. An aromatic herb with huge fuzzy heart shaped leaves. The leaves are often used in cooking, quite often wrapping meat such as fish before cooking where it imparts a root beer like flavor. An herbaceous perennial where temperatures dip
to below freezing, it spreads by underground roots so it can be a little invasive over the course of a few years. For this reason, some people prefer to keep it in large pots. Prefers a good rich deep soil and regular water.
Farfugium japonicum Gigantea (Formerly Ligularia, Giant Leopard Plant) Z 7-10. To 4′. Leaves to over a foot wide. Topped in late summer with foot tall stalks of yellow daisy like flowers. Primarily grown for its impressive leaf foliage, the blooms almost seem like just a bonus. Prefers a deep rich soil and regular water. Thriving in deep Texas shade, a few hours of sun will improve its flower output. Evergreen to well below freezing. Easy to propagate by division for sharing. Has really taken off in the landscaping community recently and because of this, can sometimes be rather hard to find.
Viburnum suspensum ( Sandankwa viburnum) Z 8-11. China. Shrub to 10′. Partial to nearly full shade. Dense evergreen with dark green leathery leaves and white to pale pink flowers. Attractive to bees, birds and butterflies. Blooms are followed by red berries that darken to black. Appreciates a well drained soil with a moderately low water requirement. Can be planted as a dense hedge or screen.
Spirea japonica (Anthony Waterer Spirea) Z 4-9. Deciduous dwarf shrub to four feet tall. Pink flower clusters in spring and quite often again in the fall if pruned. The dark green foliage turns a beautiful bronze red color in the fall before going dormant in winter. Considered a sun plant to the north, it tolerates substantially more shade in central Texas. Spireas can be found in several varieties, with the bridal wreath Spirea also being a popular choice.
Russelia equisetiformis (Firecracker Plant) Z8-11. Mexico. A multi-branching sub shrub with long bright green stems covered in small leaflets. Through summer it is covered in tubular red or yellow flowers which are very attractive to hummingbirds and butterflies. Can thrive in almost full sun to fairly deep shade. Evergreen in a normal central Texas winter. It will die back to the ground but return with vigor after an unusually cold winter like this last one. Great in containers or spilling over walls. I have this planted at my house and it never lets me down. Very low water requirement. Absolutely one of my favorites.
Yucca recurvifolia (Soft Leaf Yucca) Z 7-10. Very common in Austin landscapes, very popular withAustin landscapers. Blue green leathery recurving leaves to six feet. Very heat and drought tolerant. Can handle quite a bit of shade. Creamy white blooms in late summer on long tall stalks. Architectural.
Ophiopogon planiscapus (Black Mondo Grass) Z6-10.East Asia. Evergreen grass to 6″ with dark green to almost black foliage and violet white blooms in late spring followed by purplish-black berries. Prefers deep shade in southern climates as intense sun will fade its color. Is considered a deer resistant plant, but that claim goes with the usual central Texas disclaimers. One of the few truly black plants, not just a dark purple.
Drimiopsis maculata. Z 7-10. South Africa. (Little white soldiers, African false hosta)6-12 in. White Flower stalks 6-12 inches tall above fleshy green leaves with dark maroon spots which
appear in early spring and tend to fade by late summer. Maculata means spotted which it certainly is. Prefers fairly dense shade but will handle a fair amount of sun especially the morning variety. Not a
hosta, but makes a fine alternative to hostas.
Ferns
Astrolepis sinuata(wavy scaly cloak fern) Z 7-10. Drought tolerant evergreen. In periods of extreme dryness it will curl up and look terrible but will unfurl and green up with the first good rainfall. While ferns are generally thought of as deep shade plants to begin with, this one can handle both sun and quite a bit
of shade so it makes a great plant for transitional areas.
Dryopteris erythrosora (autumn fern) Z 5-9. A dwarf growing fern, young fronds emerge with a coppery red color maturing to a deep green color.One of my favorite ferns for shady areas. Evergreen in frost free areas root hardy to zone 5. Laughs off the cold and the heat. The name is misleading because the main attraction is the emergence of the bright copper red fronds in the spring, not the fall. In late summer, bright red spore clusters (sori) appear on the fronds undersides.
More from Jon Hutson
Evergreen screening shrub
Small shrubs
Mahonia repens
Abelia
Dwarf pittosporum
Oak leaf hydrangea
Perennial small tree/shrub
Palms/cycads/yuccas
Palmetto
Sago palm
Dioon
Soft leaf yucca
Grasses
Inland Sea Oats
Aztec grass
Sedges (various)
Evergreen large groundcovers
Evergreen small groundcovers
Perennials that go dormant by season
Grecian pattern plant (dormant summer)
Acanthus mollis (dormant summer)
Mexican petunia (ruellia: dormant winter)
Justicia (dormant winter)
Oxalis (dormant summer)
Pigeonberry (dormant winter)
Turk's cap
Textural tropicals
Aspidistra (various)
Aralia
Variegated ginger
Bulbs
Spider lily (Lycoris)
Chinese ground orchid
Spiderwort
Agapanthus
Crinum lily
Regina iris