Skeleton-leaf Goldeneye
Viguiera stenoloba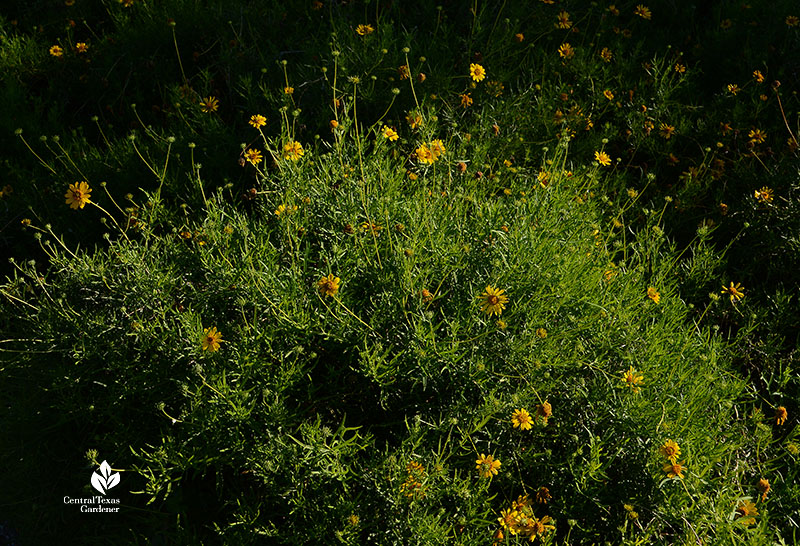 Skeleton-leaf goldeneye is a shrubby perennial native to dry, rocky regions of Texas and New Mexico.
Thriving in heat and drought, it can grow in just about any soil, but prefers a well-drained, rocky area. Plant in full sun to part shade and irrigate sparingly once established.
If planted in soils with heavy clay or poor drainage, it might do well for a number of years, until we get a period of abundant rainfall, when it may crater and die.
Listed at hardy to Zone 9, skeleton-leaf goldeneye will be evergreen, and if left alone, a single plant may grow to three feet tall and wide. But those plants will look scrubby and unkempt. Shear back hard each year in late winter, to encourage a bushier, healthier appearance, and more flowers, each year.
Note: in producer's garden, plants remained evergreen after days of below 30° temps.
It gets the common name from its sparse summer flowering habit, when the leaves, at least to some, appear skeletal, and the bright, golden flowers are few and far between.
But in late summer or early autumn, depending on rainfall, skeleton leaf golden-eye comes into its own, with brighter foliage and many more golden yellow blooms.
Pollinators love the small, daisy-like flowers, but deer will usually avoid.