Spring rolls with Trisha Shirey and Casie Luong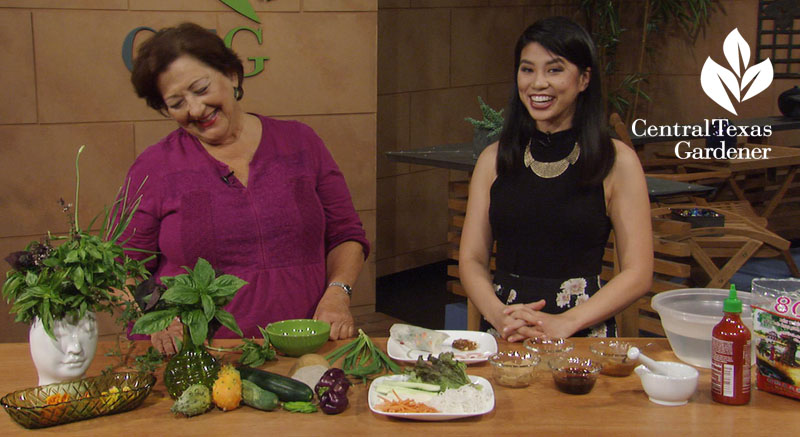 Ingredients
Rice vermicelli
Banh Trầng – Spring roll skin
Jicama
Cucumber , julienned
Carrots sliced, julienned
Romaine Lettuce
Mint leaves
Thai basil
Garlic chives
Perilla or shiso leaves
Add chopped organically grown edible flowers like marigold petals, rose petals, begonias, pansies, violas, borage, Turk's cap
Peanut butter or Almond butter
Dry roasted unsalted peanuts
Hoisin sauce
Chicken or Vegetable broth
Chicken, shrimp, tofu (optional)
Siracha (optional)
Prep
Wash herbs, cucumber, romaine lettuce – pick leaves off
Slice Cucumber and Jicama – vertical slices
Coarsely chop herbs and flowers
Heat water to boil noodles – 8 min, run cold water and drain
Bowl of cold water set aside for spring roll
Use mortar and pestle to crush peanuts
Dipping sauce – yield 15 rolls
Boil chicken broth or veggie broth – on low – 1/4 cup
1/3 c peanut butter (sub almond butter)
1/4 c hoisin sauce
1/4 c of chicken broth (pour in slowly continually stirring mixture)
Siracha sauce to taste, if desired
Spring roll directions
Wet spring roll wrap in shallow bowl of water to soak very briefly
Layer (order): lettuce, cucumber, jicama, vermicelli, herbs (I start with
dense ingredients first then herbs and lighter ingredients)
Roll
*Optional – add siracha
Spring rolls are the perfect party food. Casie tells us: "Growing up we would always make spring rolls at family gatherings and get togethers and it's great. You do all the prep work and then everybody just has at it and just makes their spring roll."
Find rice vermicelli and spring roll wraps (not refrigerated) at Asian markets or in the Asian section of your supermarket.
After swishing the spring roll skins in water, put on a plate, with a little hanging over the edge for ease in folding.
Add lettuce first, then a bit of noodles, then your ingredients. As your roll them, tuck the sides in to seal.
Watch now!