Tatume Squash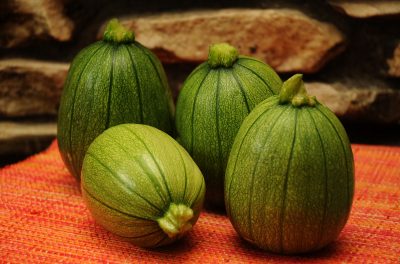 Thank you to garden blogger Caroline Homer for her picture and hands-on advice! Tatume squash is a prolific producer. It's a must-have for any vegetable gardener, especially if you're converting some lawn space and growing vegetables for the first time. It's easy to grow and will likely produce more fruit than you can possibly eat.
Caroline tells us that she plants the first or second week of March. Tatume prefers to sprawl on the ground, rather than be trellised, so give it plenty of space: 6 to 8 feet on all sides.
If you've ever grown squash, you've come face to face with the dreaded squash vine borer, which destroys squash plants in the blink of an eye. Although it's not immune to these insects, Tatume does tolerate the damage better than any other squash choice for Central Texas gardens. It also thrives in full sun, requiring very little supplemental irrigation: twice a week deep watering is usually sufficient to keep Tatume growing and blooming, and fruiting through early summer. If you find that you're getting more squash than you can handle, simply harvest some of the blooms to use in salads.
Many vegetables benefit from fertilization throughout production season, but Tatume will perform just fine if only fertilized lightly at the time of planting. Caroline simply adds a little 8-2-4 at planting time.
Tatume squash is an heirloom variety, so you may have to shop around to find seeds. Producer Linda note: I snagged some at a local nursery!