Thryallis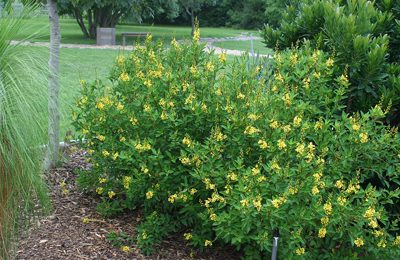 This is one of the most exciting, fairly new to us plants that has come along in the last decade. Thryallis has beautiful yellow blooms that just go on and on throughout the warm season.
For us it is a semi-hardy plant. If we have an exceptionally cold winter, it can die to the ground, but it will come back, and most years it doesn't even die back. Thryallis likes a lot of sun. While it will grow in shade, it just doesn't bloom as well.
You can allow it to be a large, open loose bush to about 6′ tall, or you can keep it dense and low with periodic shearing. Some people plant them in a mass as a low hedge. Just remember that the more you shear, the fewer flowers that you'll have.
It doesn't have any common pest problems and one of the best things about it (if you promise not to tell the deer) is that they don't really like this plant. So, for you in deer country, this is a good colorful shrub for you.