Tomato, Pepper, Eggplant Varieties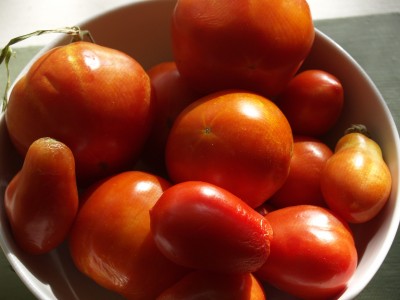 Big Rainbow- Heirloom, Indeterminate type
Large, orange and red beefsteak fruits weighing up to 2 lbs. Some red streaks
appear through the meaty flesh. A beautiful, vining variety with a good, sweet
flavor. Matures in 90-100 days.
Costoluto Genovese- Italian Heirloom, Indeterminate type
Large, deep-red, juicy tomatoes are deeply ribbed but fully flavored. Does well
in hot weather and continues to produce when weather turns cool. Vining.
Matures in 78 days.
Green Zebra- Heirloom, Indeterminate type
Unique and delicious salad tomato. 3 oz green fruits ripen yellow-green with
darker green stripes. Very flavorful and sweet yet slightly tart. Delicious when
paired with parmesan cheese. Vining. Matures in 75 days.
Juane Flamee- French Heirloom, Indeterminate type
Gardens new favorite. Deep orange fruits that are about the size of a jumbo
egg, yet slightly rounder. Reddish interior flesh with great flavor. Borne in clusters
of 8-12 fruits. Matures in 60 days.
Sun Gold- Small fruited, Indeterminate type
A Gardens favorite . Rich tasting, super sweet golden orange fruits borne
early on large vining plants. Crack resistant. Large grapelike clusters. Very
heat tolerant. Matures in 57 days.
Chocolate- Sweet Bell pepper
Large, chocolate brown bell pepper with thick brick red walls and a sweet taste.
Produces heavy even in cool nights. Perfect to add color in a salad. Matures in
78 days.
Antigua- Heirloom eggplant
White heirloom eggplant with steaks of violet that fade to lavender. Eggplant
grows to about 8 long and 3 wide and has a creamy white flesh. Matures
in 75 days.
Neon-Hybrid eggplant
Beautiful, unique eggplant that is a pink-purple color, almost truly neon. Nearly
cylindrical fruits are about 8 long and 3 wide with tender, white, bitter free
flesh. Matures in 65 days.
Gypsy Hybrid- Sweet Bell pepper
Wedge-shaped fruit are 3-5 long, pale yellow at first, maturing to orange-red;
very sweet when ripe. Outstanding yield in hot regions. Matures in 60 days.