Vietnamese Garlic Chives Soup (Canh Dau Hu He)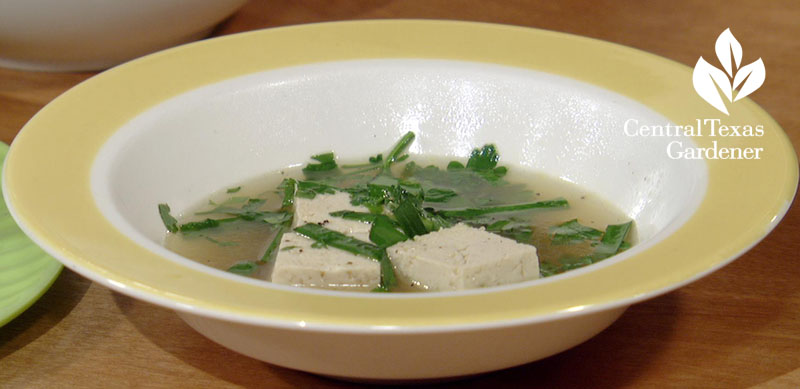 Garlic chives are an easy-to-grow perennial, beloved for almost evergreen, clumping texture and for their edible fall flowers. Chop the flat leaves to top salads or potatoes or add to soups. Grow in part sun to part shade.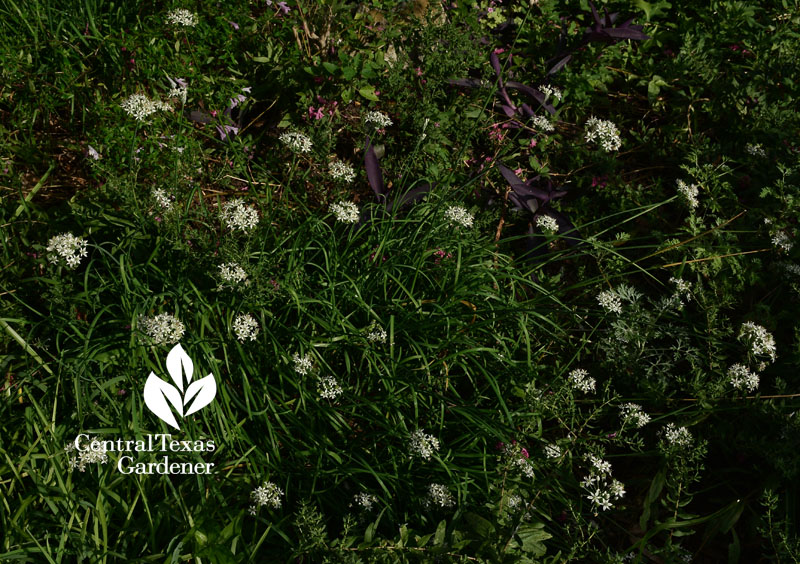 Trisha Shirey and Casie Luong serve up an easy, tasty soup with homegrown garlic chives and seasonal herbs. Both pork and vegetarian recipes are aromatic, flavorful and comforting!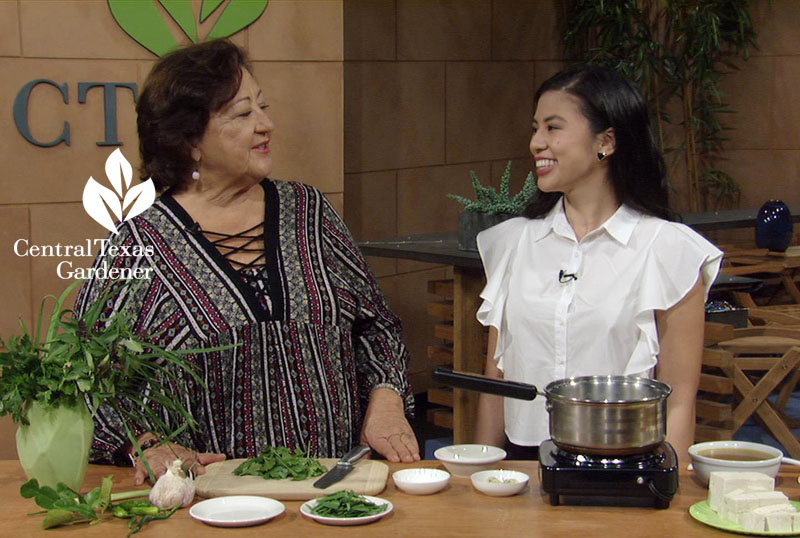 PORK RECIPE
Ingredients
• ½ lb ground pork
• ½ tsp salt
• ¼ tsp pepper
• 2 tsp olive oil
• 1 garlic clove (minced)
• 1 32 oz chicken stock
• 1 tsp salt
• 1 tsp sugar
• 1 tsp chicken stock powder
• 1 package medium firm tofu (drain then cut into small squares)
• 1 bunch of garlic chives (remove woody stems and cut into 2 inch pieces)
• For even more flavor: finely chopped cilantro, lemongrass, Thai basil, parsley, lovage (celery-like taste)
Instructions
• Season pork with salt and pepper and mix thoroughly
• Use a small pot, heat oil on medium high heat and fry minced garlic until fragrant. Add ground pork and fry for 5 minutes, break up pork in small pieces. For a spicier soup, saute Shishito, cayenne, or other hot pepper.
• Add chicken stock to pot and bring to a boil
• Season with 1tsp salt and 1 tsp sugar to taste.
• Add tofu and cook on medium-low heat for 10 minutes
• Add garlic chives and other herbs, then immediately turn off heat and ready to serve!
VEGETARIAN VERSION
Ingredients
• 2 tsp olive oil
• 1 garlic clove (minced)
• 1 32 oz vegetable stock
• 1 tsp salt or 1 T of salt (to taste), pepper to taste
• 1 tsp sugar
• 1 package medium firm tofu (drain then cut into small squares) Optional
• 1 bunch of garlic chives (remove woody stems and cut into 2 inch pieces)
• For even more flavor: finely chopped cilantro, Thai basil, parsley, lovage (celery-like flavor)
Instructions
• Use a small pot, heat oil on medium high heat and fry minced garlic until fragrant. For a spicier soup, saute Shishito, cayenne, or other hot pepper.
• Add vegetable stock to pot and bring to a boil
• Season with salt, pepper and sugar to taste
• Add tofu and cook on medium-low heat for 10 minutes
• Add garlic chives then immediately turn off heat and ready to serve!
• Optional: finely chopped cilantro, Thai basil, parsley, lovage (celery-like flavor)