Yucca Flowers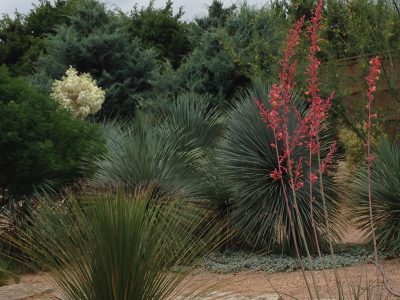 Our plant of the week is also a question from Marilyn Tinstman: what do yuccas need to bloom? She has a gorgeous drought-tough area of her garden with silver ponyfoot groundcover and many succulents, including red yuccas, Hesperaloe parviflora, which are actually not Yuccas at all, but more closely related to lilies.
Her stunning Yucca rostratas are well on their way to their ultimate size of about 10 feet tall and a few feet wide, are very healthy, but only one bloomed last year.
Yucca rostrata perform best in full sun, in very well-drained soil, but they do take a few years to flower, so perhaps these are just coming into maturity and flowering will be better this year.
Excessive water and soil nutrients may also be an issue: Yuccas really thrive in poor conditions. And perhaps consider a bloom-boosting fertilizer, which would have a low amount of nitrogen related to phosphorus. Plants with plenty of nitrogen in the soil will grow very well but may not bloom. The plants appear very healthy, so I wouldn't worry too much. And be sure to send us an update this year!