Bluebonnet (Lady Bird Johnson Royal Blue)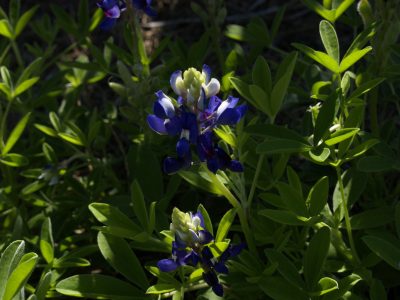 'Lady Bird Johnson Royal Blue', a new Texas Superstar, is indeed a star to celebrate the First Lady who championed our wildflowers.
There are lots of different colors of bluebonnets, including pink, white, and even deep crimson maroon. There are also a wide variety of blues.
This new cultivar truly is royal blue. It was originally found in a field among other bluebonnets, and Texas A&M AgriLife Extension specialists snagged some seeds and went to work.
Bluebonnets are notorious cross-pollinators, so flower colors do not remain true unless selections are isolated.
Since 2007, our researchers have been working to make sure that any seed of this new cultivar will be truly royal blue, and now you can purchase seed packets of this gorgeous wildflower. If you act quickly, there's just enough time to still plant from seed in mid-November.
But if you miss your window or seed suppliers are out, pick up transplants at local nurseries now or even in the spring.
Be sure to keep bluebonnets and all other wildflowers watered throughout the winter, but don't overwater transplants in spring. If you have heavy clay soil, these plants will rot in a heartbeat if they stay too wet.
Bluebonnets are annuals that die every year, but will leave a bank of seeds behind for the future. These seeds may not all come back royal blue, though, since any other native plants in the area will have pollen blowing around.
So you'll likely notice your bluebonnet patch revert back to mostly the pretty pale blue flowers in the future, unless you remove all of the seed from your plants and use new seed each year.