Christmas Poinsettia
Euphorbia pulcherrima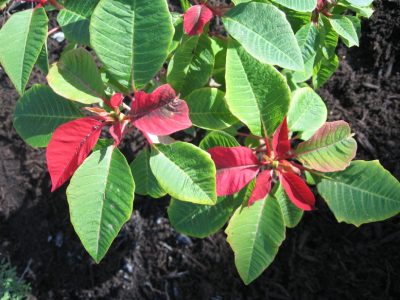 After the holidays, what should we do with our beautiful plants? Can we put them in the ground? Well, although you can put them in the ground, I wouldn't recommend it. But, once we're past freezing weather, you can keep your poinsettia in a pot outdoors, but be sure to protect it from the full sun, especially harsh afternoon light, and mulch it well, to keep the air around the plant moist. It will need to be cut back and fertilized through the summer. Be sure to take it out of its decorative foil to allow perfect drainage!
But to get it to bloom again, you'll need to provide at least 14 hours of darkness starting in September. Even then, the colorful bracts may not be as rewarding as those on a new plant would be.
But here's a success story from our friend Jay Musfeldt in Leander! Last Easter, he planted his two Christmas poinsettias in the ground. They're in well-prepared and well-mulched soil near a live oak tree, so they get shade about 50 percent of the time. He watered them twice a week this summer. In November, they bloomed again! Although they're much smaller than his original plants, his experiment just goes to show that gardeners can do anything.