Collard Green Makeover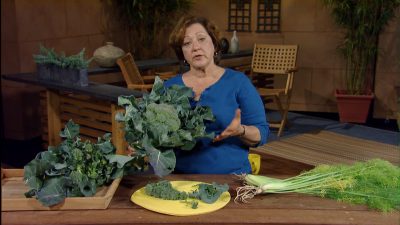 by Trisha
Collard greens come to mind when we think of Southern style comfort food but did you know that these greens were cultivated by both the ancient Greek and Roman cultures? They also became popular in Scotland where they tolerated the cold climate well and were probably introduced to America by the Scots. We grow collard greens in the winter here at the spa and they are one of the easiest greens to grow. They are vigorous and hardy and taste even better when they are subjected to freezing temperatures. While they are available all year long, they are at their peak of flavor during the cold season. Collards have few pest problems and their tall, dark green leaves are an attractive addition to the winter garden. If you are buying them in the store or at your farmer's market, look for crisp, dark green leaves with no yellowing that would be a sign of age.
Collard greens have high levels of vitamins A and C, and also contain high levels of iron and fiber. Most traditional recipes for collard greens call for using salt pork, ham or bacon with the greens and often recommend cooking them for up to an hour! Fresh greens should not require cooking for longer than ten to fifteen minutes. They can be very tasty without adding salt and fat laden meats, but diced ham or smoked turkey (especially dark meat of the turkey legs or thighs) may be added to the greens for a healthier alternative to the traditional cooking method.
Try adding the chopped leaves to black eyed peas, gumbo or any bean soup about 20 minutes before the end of cooking. You can sneak a little extra nutrition into your family meals in this way. Since collard greens are very dense in texture (which is why their fiber content is so high.) they will require a little liquid added during cooking.
Here are two of my favorite ways of preparing collard greens:
Basic Greens Recipe
2 tablespoons olive oil
2 medium cloves garlic, minced
2 pounds tender greens – spinach, Swiss chard, mizuna, mustard, turnip or collards, washed well and stemmed, chopped
¼ cup stock or water (for collard, chard or turnip greens only)
Salt and pepper to taste
Heat olive oil in a large, heavy skillet or Dutch oven. Add garlic and stir until it begins to turn golden. Add the greens and cover, stirring occasionally. Cook until completely wilted, 5 to 10 minutes. (Longer for collard greens. )
Season to taste and serve warm. Add pepper sauce or lemon to taste.
Option for homestyle greens: Cook two pieces of bacon until crisp. Remove bacon and set aside. Use bacon grease instead of olive oil for cooking garlic and greens.
Asian Style Collard Greens
1 large bunch of collard greens
1 tablespoon olive oil
2 cloves garlic, finely minced
1 teaspoon peeled and grated ginger root
1 tablespoon rice wine vinegar
¼ cup water or stock
2 tablespoons tamari or soy sauce
1 tablespoon sesame oil
2 tablespoon toasted sesame seeds
Wash collard greens and remove large center ribs. Slice greens into thin strips and place in boiling water. Return water to boiling point and blanch them for about 4 to 8 minutes, until tender and limp. Remove them from the water and plunge them immediately into an ice water bath and then drain the greens.
Toast the sesame seeds in a dry skillet. Remove and set aside. Add the olive oil to the pan and cook the garlic until it begins to soften, but not brown. Add the ginger and rice wine vinegar to deglaze the pan.
Add the drained collard greens and stir until heated through. Add stock or water to provide sufficient cooking liquid. Add the remaining ingredients and top with the sesame seeds before serving.