Creeping Germander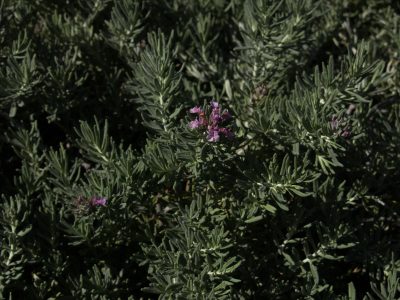 Various species of creeping germander in the genus Teucrium all do great in Central Texas gardens.
With flowers from pale pink to light lavender and striking silvery gray foliage, this lovely little mounding plant will surprise you with its cheeriness.
It's very drought-tolerant, making it the perfect plant to add to your garden if you're trying to be more water conscious.
But perhaps even better, it tolerates soggy conditions much better than many other low-water use species. It rain occasionally, and sometimes in copious amounts.
Creeping germander won't rot at the first sign of a cloudy day. Plant Teucrium in full sun for best floral display, but if you have a shady spot, it'll be okay there too. Most species mound to about 6 to 10 inches, but spread much further.
If you find that your germander is creeping out of control, simply divide it as you would perennials in your garden. Creeping germander is evergreen, but can easily be divided in early spring, just as it's beginning to take off with new growth.
It's so versatile, it can be planted in low beds, in the very front, accentuating taller plants in the back; overhanging the wall of a taller bed, accentuating the architecture of the bed' or allowed to creep amongst paving stones, enhancing the look of paths, softening those rough edges and making them much more inviting.
For best floral performance, and to keep from getting too leggy, give your creeping germander a good shearing in mid-to-late spring. It's cold tolerant all the way down to zone 5, so there'll be no need to protect this plant from potentially frosty winter nights.
In warmer winters, creeping germander will perk up and begin to flower very early, and will keep right on blooming right through fall.