Damianita
Chrysactinia Mexicana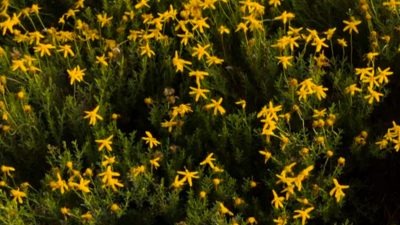 Damianita is an evergreen low mounding subshrub. Subshrub is a term to describe a plant that's kind of shrubby and woody, but it doesn't get very big. This one has vibrant yellow flowers and a deep, forest green, aromatic foliage.
It grows very low to the ground, so if you wish to smell this plant, it is best after a rain. Cut a few leaves and bring it indoors to enjoy in arrangements!
It gets about 12″ tall and 2″ wide, with flowers the stand up to catch your attention.
It does get a little straggly in extreme heat. Just shear it back to promote new growth and maintain a lush appearance. Clump it in pockets for the most outstanding effect.
Damianita is native to west Texas, and normally is found on south-facing rocky slopes. That means it demands perfect drainage! It's perfect in decomposed granite walkways and accenting mounds. Don't amend with too much organic matter; provide extra grit if you're not in a rocky setting.
Avoid too much water. Normally, rainfall alone is enough for it. In August or extended hot drought, you can give it some supplemental water.
Plant in full sun. though it can take some shade.
Damianita is hardy 0 degrees and accepts our hot temperatures, too. So, it's a great colorful and foliar subshrub to accent your succulents or other plants that require well-drained soil.