Euphorbia 'Diamond Frost'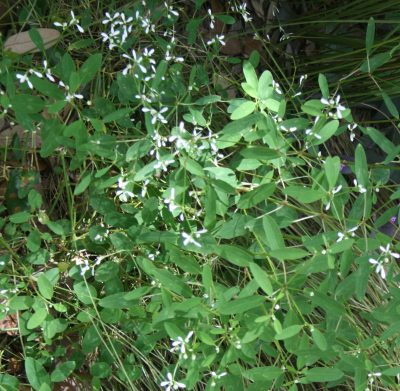 This euphorbia is another example of a trademarked cultivar, introduced by Proven Winners.
This delicate looking little plant is actually quite tough and usually deer resistant. 'Diamond Frost' blooms reliably with small white flowers from late spring until the first freeze. It's a wonderful low-growing plant (12 -18? tall and wide) to brighten up those partly shady areas.
It doesn't need pruning and insects are not a problem. Generally good soil and some water are all it needs. Plant in groups for a standout show of continual flowers on very tidy plants.
But this is where we must adapt the plant tag to grueling Central Texas sun. Although the tag says 'Full sun to part shade,' for us 'Diamond Frost' should be planted in bright, filtered light, or light shade. Receiving morning sun should also be okay.
If planted in shade, 'Diamond Frost' requires little supplemental irrigation, but do be careful not to let it dry out. In normal years, it's pretty drought tough.
Its plant tag lists it as an annual except in zones 10 – 11. But in mulched, protected niches near the house with other plants to warm it, it may be fine in our winters. Generally, it is an annual that we can plant again after the last frost for many months of blooms.