Firebush
Hamelia patens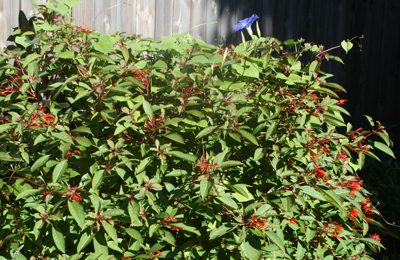 Firebush is a great shrubby perennial for us. It grows 3-4′ tall and can get to 5′ wide, so give it some space.
It thrives in our heat and blooms in late summer and fall with clusters of gorgeous orange-red tubular blooms, so it's great for attracting hummingbirds. It's also very low water use and tolerant of virtually all soil types, from clay to sand to somewhat rocky. It also accepts a wide range of soil pH.
It likes sun but will accept shade during the day, as along as it gets a good blast of sun.
This trouble free shrub does not have insect or fungus problems, and thrives without fertilizer.
Firebush does go dormant in winter. Cut it to the ground and watch it flush back out even bigger next spring! In its dormant period, sow wildflower seeds or plant naturalizing bulbs to fill the space.