Celosia Spictata 'Flamingo Feather'
Celosia spictata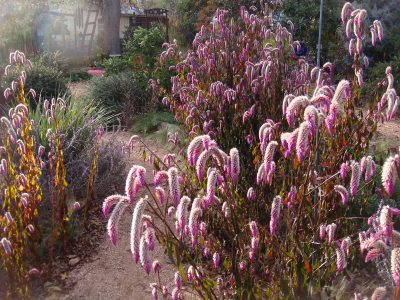 Thanks to Philip Leveridge at East SidePatch for providing this picture and information!
We've long admired this warm weather annual in his garden, where it readily sows itself in sunny decomposed granite paths. You will also see it called 'wheatstraw celosia.'
Philip notes that celosias prefer a well-drained, gritty soil. In fact, they are prone to root rot if kept too wet. At the same time, even though they love the heat, they do require supplemental water in drought.
These are showy plants that get to 2′ or taller and about 14′ wide. The vibrant pink flowers are great for dried arrangements, and you can collect the seed to plant again next year.
Plant seeds after the last frost to enjoy until the first freeze. Philip harvests seeds from his plants when they mature in November or December. At that time, he plants them where he wants to see them next year. Or, you can save your seeds in a container to set out in spring.