Kale (Ornamental)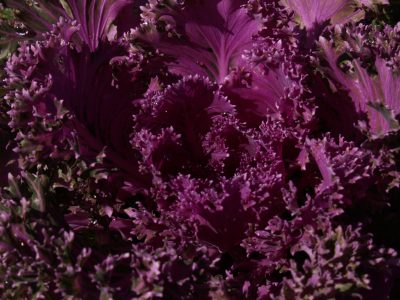 Winter annual ornamental kale brings color to garden beds that would otherwise be empty during the colder months of winter. The foliage grows as a tight, colorful rosette until it shoots up a flower spike once the weather warms up.
Ornamental kale is available in a wide variety of colors, but the most common are green purple or white accents. Unlike most other plants in the home garden, ornamental kale, with their uniformly round shape, look great when arranged systematically in tight rows or other patterns.
You can also use them alone, in pockets among other attractive winter edibles and herbs, or to brighten spots with dormant plants all around.
Plant ornamental kale in areas or full sun, or only light shade and water infrequently, or never, if winter rain is abundant. The plants tolerate a wide variety of soil types and also perform well and look great in shallow containers. A small plant, ornamental kale gets only 6 to 12 inches tall and about 18 inches wide, so they're perfect for container or patio gardens too.