Larkspur, Sweet Peas, and Poppies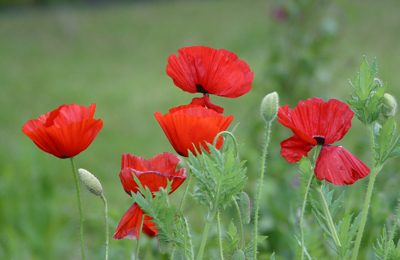 It is in fall that we sow wildflowers for next spring. This goes for our garden flowers too. Seeding them this month will give us lots of color next April.
These plants will germinate and produce rosettes to cover the ground in winter. Larkspur sends out tall bloom spikes that make good cut and dried floral arrangements. Sweet peas will climb up a trellis or fence to send out cascades of fragrant flowers. There are many kinds of poppies, including the red corn poppies of Flanders field fame (a sight to see in Georgetown every year).
Like with any seeds, just prepare the ground by raking. Scatter the seeds (or mix them with a bit of sand or granite sand) and lightly tamp over and water. One idea is to scatter them around perennials that will be dormant in winter. Fill in with spring-blooming bulbs and a few annual transplants in November. By then your seeds should be up and you can work around them.