Mexican Honeysuckle
justicia spicigera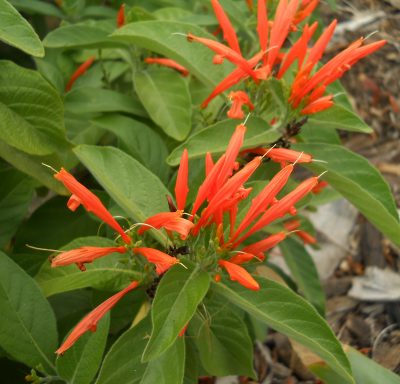 Although Mexican honeysuckle shares a common name with our common honeysuckle, Lonicera japonica, and looks somewhat similar, the two plants are not related. But Mexican honeysuckle is related to another great plant for Central Texas gardens: shrimp plant.
Viewer Nancy Yerks sent us these pictures that her friend Bob Phillips photographed in her garden. She moved her plants from a former garden and last year they were a little slow to establish. They're now quite at home in the southwest corner of her garden where they get shade from a cedar elm.
In harsh winters, Mexican honeysuckle is perennial, dying back to the ground. But in our mostly mild Central Texas winters, Mexican honeysuckle is evergreen, sometimes not even being frost-bit, but it will benefit from a bit of pruning in late winter, to invigorate new growth.
Size: 2-3′ tall.
Light: Likes some sun for the best flowering, but wants some shade, too, as long as it's not dense shade.
Nancy's situation where they get some shade from a cedar elm is great.
Soil: Not too picky.
Water: Fairly drought tolerant but will need supplemental irrigation in dry summers.
Flowers: bright orange tubular flowers late spring to frost. Highly attractive to hummingbirds.
Perennial: This perennial will remain evergreen in warm winters or protected spots. In cold winters, it can go dormant. Cut it back it early spring to promote new growth.
Deer: resistant.