Mitzi VanSant's Plant List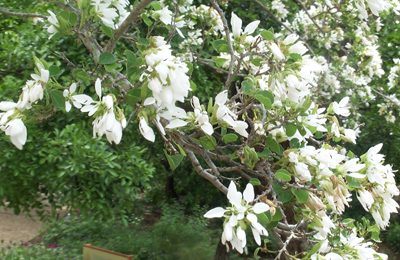 Italics = Native to TX
Bold = Fragrant flowers or foliage
Trees
Carya illinoinensis
Pecan
Acer rubrum, Red Maple
Fraxinus velutina, Arizona Ash (existing, rather plant Fraxinus texenis, native to our area)
Quercus virginiana, Live Oak
Pyrus calleryana, Bradford Pear
Bauhinia lunarioides, Anacacho Orchid
Ilex vomitoria, Yaupon Holly
Shrubs
Abelia grandiflora 'Compacta' and Abelia x grandiflora
Azaleas, 'Mrs. G.G. Gerbing'
Brunfelsia pauciflora, Yesterday, Today, and Tomorrow
Camellia japonica cultivars
Camellia sasanqua cultivars
Citrus limon 'Meyer', Meyer Lemon, CALIFORNIA FAVORITE
Eleagnus pungens, Silverberry or Thorn Olive
Gardenia jasminoides, Gardenia
Hydrangea macrophylla 'Maresii'
Hydrangea macrophylla 'All Summer Beauty' OREGON GARDEN
Ilex, 'Nellie R. Stevens' Holly
Itea virginica, Compact cultivar, Virginia sweetspire
Jasminum mesnyi, Primrose Jasmine
Lonicera fragrantissima, Winter-flowering honeysuckle
Mahonia bealii, Leatherleaf Mahonia
Michelia figo, Banana Shrub
Myrtus communis, Dwarf Myrtle
Nandina standard and 'Woods Compact' Heavenly Bamboo
Osmanthus fragrans, Tea/Sweet Olive
Philadelphus coronarius, Mockorange
Pittosporum tobira 'Variegata' and 'Wheeler's Dwarf' Mockorange
Podocarpus macrophyllus 'Maki' Japanese Yew
Spiraea x van Houttei, Bridalwreath Spirea
Viburnum odoratissimum, Sweet Viburnum
Viburnum tinus 'Spring Bouquet', Laurustinus
Vines
Akebia quinata, Five Leaf Akebia
Antigonon leptopus, Coral Vine or Queen's Crown
Bignonia capreolata, Crossvine
Clematis hybrids – 3 varieties, one blue, one red, and one white
Clematis paniculata, Sweet Autumn Clematis
Jasminum polyanthum, Pink Jasmine
Lonicera japonica 'Halliana', Hall's Honeysuckle ( a volunteer – invasive so remove berries)
Solanum jasminoides, Potato Vine
Trachelspermum jasminoides (but ivory and reblooms well)
Climbing Roses, Teas, Noisettes, Hybrid Musks (see separate Rose category for specific cultivar)
Perennials
Plumbago auriculata Plumbago
Liriope muscari, Aztec 'Grass'
Dryopteris erythrosaura, Autumn Fern
Asparagus meyeri, Foxtail Fern
Thelypteris kunthii
River Fern
Cyrtomium falcatum, Holly Fern
Ajuga reptens, Bugleweed
Liriope muscari, Lilyturf
Hemerocallis 'Hyperion', Daylily
Hemerocallis 'Stella de Oro'
Salvia lyrata Lyre leaf sage
Penstemon tenuis Gulf Coast Penstemon
Nepeta mussinii Catmint
Scabiosa columbaria 'Butterfly Blue' Pincushion flower
Justicia brandegeeana Shrimp Plant
Anemonie x hybrid 'Honorine de Jobert'
Dianthus hybrids Pinks
Iris hybrids – Bearded types – lavender and lavender with dark purple fall
Aquilegia chrysantha Yellow Columbine
Roses
David Austin Roses:
Golden Celebration
Heritage
Tamora
Winchester Cathedral
Bourbons:
Kronpprincessin Viktoria
Maggie
Souvenir de la Malmaison
Hybrid Musks:
Felicia
Nastarana
Penelope
Modern Roses:
Just Joey (Hybrid Teas)
Sunsprite (Floribunda)
Noisettes:
Lamarque
Reve d'Or
Marechal Neil
Pink Marechal Neil
Polyanthas:
Cecile Brunner
Perle d' Or
Gruss an Aachen (actually the first Floribunda released in 1909 but often grouped with old roses)
Shrubs:
Belinda's Dream
Darlow's Enigma
Cl. Pinkie
Teas:
Bon Silene
Catherine Mermet
Dr. Grill
Duchesse de Brabant
Etiole de Lyon
Frances Dubreuil
G. Nobonnand
Georgetown Tea
Isabella Sprunt
Lady Hillingdon
Madame Berkeley
Madame Lombard
Maman Cochet
Marie Van Houtte
Monsieur Tillier
Mrs. B. R. Cant
Mrs. Dudley Cross
Rubens
Safrano
William R. Smith
Climbing Teas:
Ellie Beauvillain
Sombreuil
Herbs
Allium astivum Garlic
Allium schoenoprasum Chives
Aloysia triphylla Lemon Verbena
Anethum graveolens Dill
Artemisia 'Powis Castle' Wormwood
Borago officinalis Borage
Capsicum Peppers in variety
Foeniculum vulgare Fennel
Laurus nobilis Bay leaf
Lavandula dentate French Lavender
Marrubium vulgare Horehound
Melissa officinalis Lemon Balm
Mentha spp. Mint, Spearmint, Peppermint, and Chocolate Mint
Monarda didyma Bergamot
Nepeta cataria Catnip
Ocimum basilicum Sweet Basil Tall culinary, dwarf small leaf, purple leaf
Origanum majorana Marjorum
Origanum vulgare Oregano
Pelargonium spp. Scented Geranium Rose Scented
Petroselinum crispum Parsley
Poterium sanquisorba Salad Burnet
Rosmarinus officinalis 'Prostrata' and 'Arp' Rosemary
Rumex acetosa Sorrel
Ruta graveolens Rue
Salvia coccinea Scarlet or Texas Sage
Salvia farinacea 'Evolution' Mealy Blue Sage (this is a deep purple hybrid)
Salvia officinalis Culinary Sage
Salvia officinalis Culinary Sage
Stachys byzantina Lamb's Ears
Thymus vulgaris English Thyme
Viola missouriensis Violet
Annuals
Cool Season:
Antirrhinum spp. Snapdragons
Dianthus Pinks
Viola spp. Pansies
Warm season:
Angelonia augustifolia 'Purple and White hybrids'
Evolvulus glomeratus 'Blue Daze'
Impatiens hybrids
Lantana 'Silvermound'
Pentas lanceolata, Pentas
Salvia farinacea 'Evolution'
Torenia, 'Clown Mix', Wishbone flower
Bulbs
Amaryllis (bright red)
Narcissus
Crocus
Crinum (white), Swamp Lily
Zephryanthes, Rain Lily
Vegetables
There is a fairly large vegetable garden with plants varying by season.
Cool Season:
Lettuce in variety
Broccoli
Cabbage
Bunching onions
Carrots
Beets
Swiss Chard
Warm Season:
Tomatoes
Green Peppers
Banana Peppers
Roasting Peppers
Eggplant
Cucumbers
Winter Squash
Canteloupe
Watermelon
Honey Dew Melon