Palate Pleasing Popsicles for Summer Fun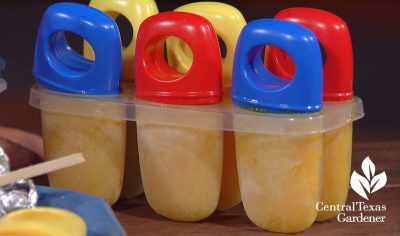 Everyone loves popsicles in the summertime – until you read the ingredients label and find high fructose corn syrup and artificial flavors and dyes. Making popsicles at home is super easy and you may already have most of the ingredients in your refrigerator.
Popsicle molds are available at most cooking supply stores or grocery stores. Look for labels that assure the molds are free of BPA. They will vary in size from three ounce servings up to six ounces so if you are serving smaller appetites look for smaller molds. Some molds have handles that are easier to manage for youngster's smaller hands. If you don't have popsicle molds but want to get started, use small plastic cups or paper cups and cover them with foil after filling, pierce the top gently with a sharp object and add a wooden stir stick, a plastic or metal spoon or even a chop stick to act as the popsicle holder. I write on the foil with a marker to identify the flavor if I make several recipes at a time. The foil may be twisted around the stick to act as a drip holder.
To unmold the finished popsicles, run warm water over the outside of the mold until the handle can be easily pulled out of the mold or set the molds or cups in warm water for a few seconds. Popsicles should stay fresh for several weeks in the freezer but wrap them up in freezer bag or place in a sealed container after they are frozen to keep the flavors fresher
Higher fat content in cream, whole milk or yogurt will result in a creamier, softer texture for the popsicles.
If you have fresh fruit that you won't use before it goes bad – make popsicles from it. Is the expiration date approaching on that yogurt? Everyone is tired of that gigantic watermelon lingering in the refrigerator? Use those in your popsicles! I have included some general recipes but feel free to swap ingredients and try new combinations. You may create something new and wonderful!
No serving sizes are given with the recipes since the number of servings will be determined by the size of the molds used.
Watermelon Berry Pops
These have a bright color and flavor and are refreshing on a hot summer day. It's a great way to use up that last bit of melon. Add a few sprigs of peppermint to really brighten the flavor or try a sprig of cinnamon basil in the mix.
2 cups seeded watermelon, cut into chunks
½ cup fresh or frozen strawberries
1 tablespoon lemon or lime juice
1 to 2 sprigs of fresh mint or basil (Key lime basil is a favorite for this.)
2 tablespoons organic sugar, honey or agave nectar (or to taste)
Place all ingredients in the blender and blend until smooth. Pour into molds and freeze overnight.
Avocado Mint Creamsicles
Sounds strange, but tastes amazing. Great creamy texture and color from the avocados.
1 large ripe avocado (not overly ripe)
½ cup light cream
¼ cup milk
1 to 2 sprigs of fresh mint (Basil also works well in this recipe.)
2 tablespoons organic sugar, agave nectar or honey (or to taste)
Dash of salt
Cut the avocado into chunks and scoop from the peel into a blender. Add remaining ingredients and process on low speed until smooth. Pour into molds and freeze for at least 6 hours.
Fruity Cheesecake Pops
2 cups fresh or frozen strawberries or blueberries*
¾ cup milk, almond milk or coconut milk
2 tablespoons organic sugar, honey or agave nectar
Dash of salt
8 ounces low fat cream cheese, room temperature and cut into chunks
Cut the tops and any white parts of the berries if using fresh strawberries. Process the berries until fairly smooth. Small chunks of fruits add a nice texture to the popsicles. Add the milk, sweetener of choice and salt, blend well.
Add the cream cheese and process quickly until smooth. Avoid over processing the cream cheese.
Pour into molds and freeze overnight.
*A food processor will be easier to use to blend ingredients if you use frozen fruit, or stop and stir often if using a blender.
Add several sprigs of fresh mint to the berry mixture if desired.
Pina Colada Popsicles
1 cup canned crushed pineapple, packed in juice
1 cup canned low fat coconut milk
2 tablespoons agave nectar
2 tablespoons unsweetened shredded coconut
Mix all ingredients and pour into molds. Freeze several hours or overnight.
Add one mashed banana to the mix to add more tropical flavor. Mix in chopped fresh mint or chopped pineapple sage blooms if desired.
Yogurt Berry Pops
1 cup of fresh or frozen berries – strawberry, blueberry, blackberry, raspberry, cherry or any        combination
1 cup low fat vanilla Greek style yogurt
2 tablespoons honey or agave nectar
Process berries until smooth in a blender or food processor. Add remaining ingredients and process until well blended. Pour into molds and freeze overnight.
Add fresh mint to the berry mixture if desired. Vary the flavors of yogurt and fruits. Try coconut Greek yogurt with fresh pineapple chunks, strawberry yogurt with fresh bananas.
Tropical Popsicles
No sweetener needed for these delicious treats.
1 cup pineapple juice or fresh squeezed orange juice
2 sprigs each: lemon verbena, lemon balm, pineapple sage
Combine herbs and juice and refrigerate overnight. Strain and discard herbs, then add:
1 large ripe mango, peeled and diced or 2 cups frozen mango chunks
Blend ingredients until smooth and pour into molds. Freeze overnight. Substitute persimmon pulp, guava or banana for the mango for a different tropical flavor. Leave the mango a little chunky if you prefer.
I like to chop the flowers of pineapple sage and add to the popsicle base. The bright red color is pretty and they are tasty also.
Coffee Pops
Get an afternoon energy boost with a coffee popsicle. Substitute chai or black tea for the coffee if desired. Caramel coffee and almond milk are my favorite combination.
1 cup strong coffee (flavored coffee if you like)
2 tablespoons organic sugar, honey or agave nectar
1 cup 2 percent or whole milk or light cream or almond milk
Mix sweetener with coffee after brewing. Allow to cool. Add milk and pour into molds. Freeze overnight.
Green Tea and Peppermint Ice Pops
Very refreshing with zero calories!
Bring 1 cup of water to a boil, remove from heat. Add:
2 teaspoons dried peppermint
2 or 3 leaves of fresh or dried stevia (or use any sweetener desired)
Cover and steep for 3 to 4 minutes. Then add 1 green tea teabags or 1 teaspoon loose leaf green tea and steep for an additional 5 minutes.
Strain, allow to cool, and pour into molds. Freeze until firm.
Lime in the Coconut
Use full fat canned coconut milk for a creamier texture or substitute refrigerated coconut milk or coconut water for fewer calories. Add chopped fresh pineapple if desired.
1 12 ounce can coconut milk
6 leaves of Kaffir or Thai lime
Twist the leaves to release the essential oils and stir into milk. Refrigerate overnight. Strain and discard leaves. Add:
Juice of one key lime (or ½ Persian lime)
½ teaspoon lime zest
Combine with milk and pour into molds. Sing the Harry Nilsson song while you eat the popsicles!