Pink Muhly Grass (Regal Mist)
Muhlenbergia capillaris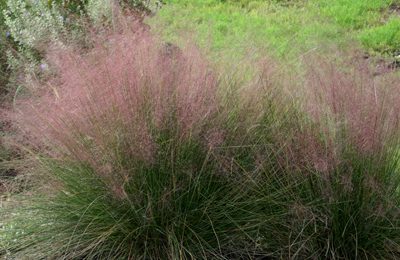 This grass is a clumping ornamental grass that gets about 3′ tall and wide.
It's native to east Texas, but it's taken the Southwest by storm, because it's so drought tolerant. It's also just really a beautiful plant. In fall, it has gorgeous deep pink flowers that add 1-2′ to the plant's height.
Best of all, those seed heads remain on the plant into the winter, adding winter flowers and a sculptural element to your garden in the winter.
It's also not as invasive as some of our other ornamental plants. As other ornamental plants, it does go into winter dormancy here, but it's hardy to 10 degrees, making it a really great plant.
In the late winter you want to cut this as you do other ornamental grasses. Cut it almost to the ground, so that it can reinvigorate itself from the roots.
It does thrive in full sun and will take reflected heat making it great for those areas on the south and the west side of your house. It can also take a little bit of light shade, so it's very flexible.
It's adapted to a wide range of soil types from clay to sand. With all of the clay here in our soil, this does make a great addition to our plant palette.