Poppy
Papaver rhoeas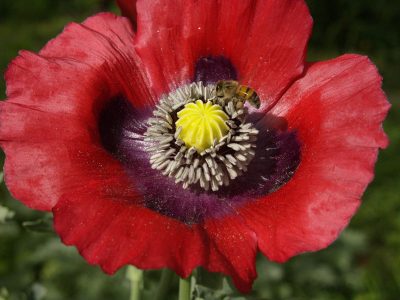 There are many non-native poppies, but one of the most common for us is corn poppy, also known as Flanders poppy.
Like native poppies and California poppy, we plant corn poppy seeds in the fall. There are many colors and flower forms.
Seed them among dormant perennials for a burst of color in spring to feed bees and other insects. They're lovely against native yellow columbine or non-native larkspurs and other springtime flowers.
The seeds are very tiny, so you don't want to bury them. Scatter on top of cleared soil and barely cover. Lightly water in to firm their soil contact. Late October to mid-November is a good time to plant them, after temperatures are slightly cooler.
In late spring, you can collect the seeds to save for next year. When the seed head turns brown and the top "pops up," it's time to get a bucket and clip the stems to drop in. If you're lucky, many will re-seed on their own next year. Saving some is insurance to make sure you have more next fall!
Let the seed dry and clean off debris. Store indoors in plastic bags or containers.
Poppies can hybridize with other colors and forms, so next year you could have something a little different.