Rangoon Creeper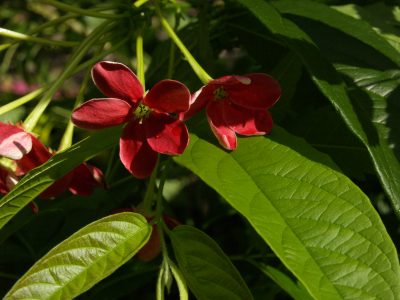 This tropical vine is actually very drought and root hardy for us.
We'd noticed a gorgeous specimen of Rangoon Creeper on our visits to The Great Outdoors, so we dropped by to talk with general manager Merrideth Jiles about it.
Merrideth says their Rangoon creeper thrives in full sun, with very little water and absolutely no fertilizer. It's obvious from the trunk size that their Rangoon Creeper has survived quite a few years of harsh Central Texas weather, including extended drought and unusually cold winters.
It does need the support of a fence or trellis, so be sure to give it a spot where you can provide plenty of height for future growth. Merrideth reports that their Rangoon creeper does freeze back if temperatures drop into the 20's, but bounces back with no problems.
The gorgeous flowers, which seem to drip from the plant at every possible spot on the plant, resemble those of plumeria, but aren't quite as large. They attract hummingbirds and butterflies, too! Gardener Robin Howard Moore says that the fragrance reminds her of bubble bath!
Rangoon Creeper is deer resistant.
Robin grows hers in part shade. In San Antonio. Ragna Hersey said that her plant only gets a few hours of mid-day sun, but it blooms prolifically, starting in mid-summer. So, the more sun, the more flowers, but it is adaptable. It did take about 3 years for hers to bloom but that's not unusual for many vines.
Ragna waters this drought-tough plant about once a week in the hottest times of summer. It doesn't have any insect or disease problems.