Rose Petal Beads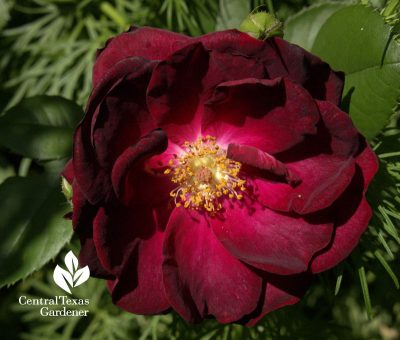 Mahogony colored beads made from rose petals are a wonderful way to wear the memories of the scented petals from your garden. Rosaries were named for the rose petals that they were created from. In ancient times, rose petals were ground to a paste with a mortar and pestle. A food processor makes quick work of this project today.
Gather rose petals from any fragrant rose, of any color, when they are clean and dry. Red roses will make the darkest black beads. Avoid adding any green leaves or sepals as these will affect the finished product. I prefer to use roses that I know have been organically grown.
Collect four cups of tightly packed rose petals. Add about 3/4 cup of petals at a time to a food processor and pulse until finely chopped. Keep adding rose petals and use a spatula to scrape down the sides of the processor frequently. When all the rose petals have been added, continue to process until uniformly chopped.
With the processor running, add about 1/2 cup of water slowly through the top chute. (Substitute rose water to make even more fragrant beads.) Continue to scrape the sides and process until you have a smooth paste.
Add the rose mixture to a cast iron pan and cook slowly over very low heat. Use the back of a metal spoon to mash the rose mix to make it even smoother. Stir frequently until it reaches a clay-like consistency and can be rolled into a smooth ball. This may take several hours. Add small amounts of water if it becomes too dry.
Cooking in a cast iron pan helps to develop the dark color of the beads. If you do not have a cast iron pan, add a few rusty nails while cooking the paste.
When the mix has reached the desired consistency, allow it to cool until it can be handled easily. You may want to mix in a few drops of rose essential oil at this point to add even more fragrance. Measure the clay with a measuring spoon to get a consistent sized bead. I use a 1/4 teaspoon or 1/2 teaspoon measure usually. Keep in mind that the beads will shrink as they dry and will generally be about half their original size when dry.
Roll the balls gently in your palm until they have a smooth, rounded shape. If the ball falls apart, return to the pan and continue to cook a little longer. Use a straight pin to pierce the bead and stick the bead in a block of Styrofoam for drying. Leave at least a half inch of space between the beads on the foam. If you are making larger sized beads you may want to use a round toothpick to make the holes.
The beads will need to dry for at least two weeks, depending on the humidity. Move the beads up and down on the pins or toothpicks to ensure that they don't stick. When they feel dry you may make your jewelry.
Use a dark colored wire or thread to assemble your finished piece. It will take about 60 beads for a necklace for an adult. You may want to add gold or silver beads or spacers from a craft store between the rose beads to increase the length of your necklace or bracelet.
Your body heat releases the subtle rose scent and it will last for years. As you wear your beads they will continue to darken and shine. Keep them wrapped in soft cloth and stored in a box to protect them.