Texas Persimmon
Diospyros Texana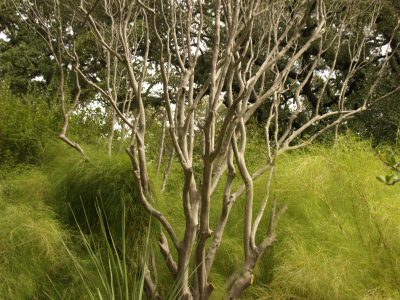 Texas persimmon is also called black persimmon due to the color of the ripened fruits.
This wonderful little native tree is beautiful and simply striking in the landscape. It has a beautiful pale gray bark that begins to flake off once it reaches maturity, much like a crape myrtle. Although I called it a small tree, it can actually get quite large with adequate water and sunlight, up to 20 feet tall.
But Texas persimmon could just as easily be referred to as a shrub, especially if used as an understory plant under cedar elms and live oaks. Since it does perform well under other trees, it makes a good choice for potentially-challenging, shady areas of your yard.
It's amazingly drought-tough, surviving even the toughest of hot, dry Central Texas summers on very little supplemental irrigation. It's also a great wildlife plant, providing both food, with its gorgeous black fruit, and shelter for birds and small mammals. If you prefer less of a "wild" look, you can prune Texas persimmon to raise the canopy and make it less shrubby.
Be aware that there are both male and female plants, so if you want the fruit, you need to purchase a female. But if you'd rather not attract wildlife and clean up the mess, ask the nursery for a male plant, although those are less commonly found.
But you'll probably want the fruit, because it is delicious! Lamar Hankins shares this jam recipe that tastes like blackberries!