Thryallis (Galphimia glauca)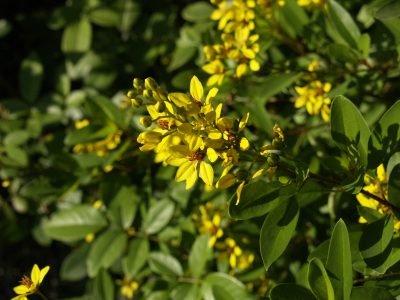 This drought-tough shrub needs very little water to be happy. It's ideal to screen a view or add yellow accent flowers against purple-flowering shrubs like Duranta (Duranta erecta) or near Texas sage/cenizo (Leucophyllum frutescens).
Size: 4-6′ tall, 4′ wide
Light: Prefers full sun but can take part shade.
Soil: Any soil type, but does prefer good drainage. Do not overwater. Do water to establish.
Flowers: Yellow flowers cover it from spring until frost.
Deer: Resistant.
Leaves: Deciduous in most winters.
Hardiness: It's listed to about 25?, but even when temperatures dip lower, it's normally root hardy. If freeze damaged, simply cut back and it will quickly rebound in spring.
Care: Low. No need to fertilize if in decent soil. Pests aren't a problem. If it gets out of bounds, simply prune back and shape.