Verbena
Superbena Purple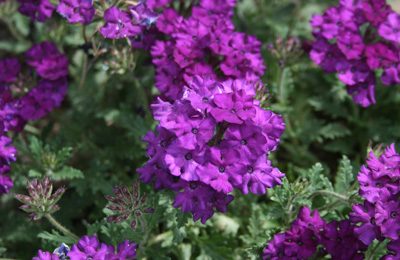 This is a great verbena cultivar. Verbena 'Superbena Purple' has really dark green, fuzzy foliage, against vivid purple flowers. It loves full sun and is extremely drought and heat tolerant. It flowers all summer long with those beautiful purple flowers.
They're very long-lasting flowers and they do fall naturally from the plant without looking messy, so this plant does not require deadheading.
Do allow room for it to spread, since it gets up to 4′ wide. It's considered a groundcover, getting only 6-12″ tall, so it fills in nicely under tall plants or spilling over edging. You could also use it in a hanging basket. It attracts butterflies, a super bonus for 'Superbena'.
This plant grows very quickly. It doesn't need much fertilizer. All you need to do is apply a light application of compost or slow release fertilizer.
It's hardy to 15°, so in hard winters it may be an annual.