Zinnias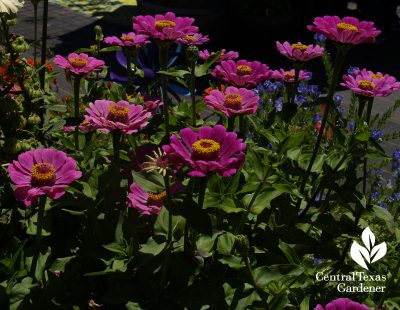 by Trisha Shirey
Heat-loving, drought-tolerant annuals
Zinnias trace their parentage to South America and South Texas
Require well-drained soil
Sun or afternoon shade. Zinnias will not perform well in semi-shade.
Butterflies love them!? Plant in containers on the patio or porch for a close-up view.
If possible, water by hand or with drip irrigation. Early-morning sprinklers will wash away nectar that attracts the butterflies.
Easy to start from seed, or get nursery transplants
Plant after soil has warmed up in late spring/early summer
You can keep seeding throughout summer
Fertilize regularly to promote top performance all summer
Classic, old-fashioned zinnia:
Zinnia elegans
Many colors (including green!)
Are susceptible to powdery mildew
Best planted from seed; can keeping seeding throughout summer
Must be deadheaded to keep them flowering and attractive
New varieties:
Less susceptible to fungal disease
Don't require deadheading
Magellan
Dahlia-like flower up to 6? across
12-18? tall
Zahara
Slightly smaller flowers
Extremely durable in heat
Narrow-leaf zinnia (Zinnia angustifolia)
Flowers about 1? wide
About 12? tall, make low masses of color
Flowers almost completely cover the leaves
Tidy plant for edging walkways or for containers
Only comes in 3 colors?gold, deep yellow, and white.
The white is a nice annual substitute for blackfoot daisy for gardeners in heavy clay
Short Stuff
12? tall
big impact on short stems
Profusion zinnia
Intensely vivid colors
Very profuse! ?
Article Type: Tip