June 12, 2008
From the producer: 6/14/08
Since the hot, dry days are upon us, I figured we needed a little perking up this week. In lieu of a good soaking rain (sadly out of my control) Sharon Truett from The Natural Gardener gives us a tour of drought tolerant plants for shade, including a few surprises! Sambac jasmine, one of her selections, has a bonus: you can make tea from its flowers. I've had this one in a patio container for many years.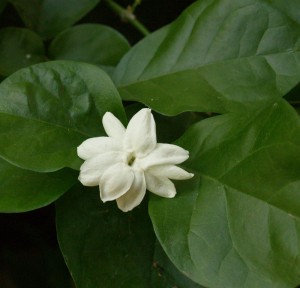 Last winter I didn't bring it under cover and it froze back, but rebounded nicely. Originally I got it as a gardenia substitute, since that beloved plant from my childhood cratered in two months when I planted it in Austin. I don't miss gardenia at all since the sambac perfumes summer nicely, picking up where the star jasmine left off in spring. By the way, we'll put Sharon's plant list under John Dromgoole on our web site.
Marcus Young, talented designer and owner of Bloomers in Elgin, has us salivating again with the performers that wait around until hot weather. His foliar and flower combinations for containers or beds are so beautiful that they take the grit out of summer. His complete plant list will be online under This Week. We archive program details, so if you need a list down the line, just check out Past Shows.
On our garden visit, I think that Elayne Lansford will find a rich place in your heart, as she has in mine. Her story includes container tropicals, with passalongs and other "dear little friends" that she's had for years, protected in husband-built greenhouses or improvised protection every winter. In addition, her widespread garden is a National Wildlife Federation backyard habitat. She's available to meet with individuals or groups for help on starting a backyard habitat, so email me at ctg@klru.org if you'd like to be in touch.
And part of her story is how the garden evolved, giving her strength and healing, when she was diagnosed with cancer. I thank her friend Brende who recommended this inspiration for us all.
In my garden, the back fence is certainly a wildlife habitat, albeit a little out of control, with bird food sunflowers that re-seed every year. I need to thin them, since they're shading out the wildlife nectaring perennials.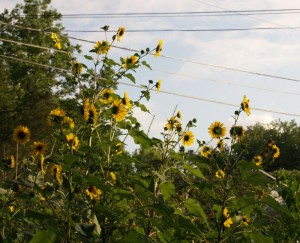 But these guys always come back, so you have to give them that. I've tried seeding all the glorious hybridized colors, but have never had any luck with them.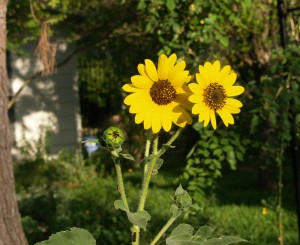 I wish the birds would eat the mealybugs that are having a field day this year. This brood is on the batface cuphea in the crepe bed. If they bother you, spray them with neem oil or dab them with rubbing alcohol. Usually, I just wait for them to go away on their own. I just don't get too worried about insects. Like compost, insects happen, and I've never lost a plant to mealybugs. I do control them on container plants, like the Satsuma orange, but generally that's with my fingers.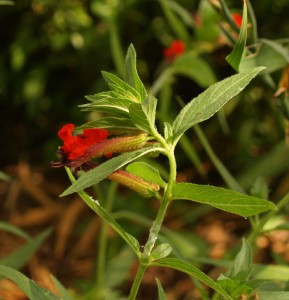 This crepe picture isn't the best, though in person, it was great! I walked out one morning to see the pinks in action in the crepe bed: Knock Out rose and the coneflowers. The batface is out of view in this picture, but it was there to my wide eye view.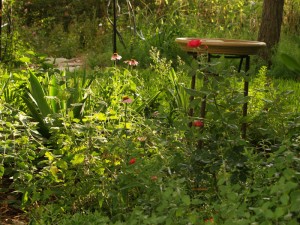 Two days before, a pavonia was in bloom between them.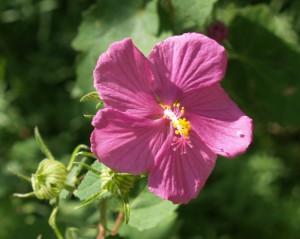 In front of them, a Salvia 'Hotlips' is putting on a few flowers but is too camera shy for the moment. So just imagine my little color scheme of pink and red dots in the bed. Really, I just moved everyone around this spring for more sun, and bingo, a "design" was born.
On the patio, the turks cap is starting to bloom, though so far, I haven't seen a single hummingbird. The creek project and its noise may have frightened them off.
Beyond is the cat statue and cat ladder. Greg recently replaced a bad rung and I haven't gotten around to painting it.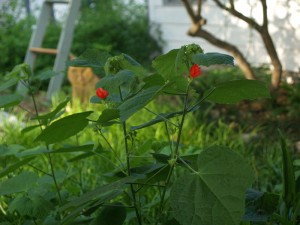 Even our elderly cat Spencer climbs the ladder now and then. In the heat, he stays mainly indoors, except for a brief after-dinner nap near the primrose jasmine beyond the ladder, in case he has a rare burst of 17-year-old energy.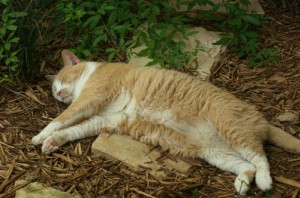 Finally, my heartfelt condolences go out to Sharon Truett, whose beloved husband, Raymond Carlton, died of a heart attack last Sunday. When we were taping the studio segment a few weeks ago, Sharon confessed that she was a little nervous. I told her to talk to the camera as if it were Raymond. I'm sorry that he won't see what a great job she did. Linda
Comments