June 25, 2009
From Linda: June 25, 2009
When Tom and I first met Mary Irish and her photographer husband, Gary, we danced around the studio with joy. Their passion for plants is infectious, and Mary's knowledge captivates us with question after question. I'm always thumbing their book, Agaves, Yuccas and Related Plants, and the later one, Perennials for the Southwest.
On her last visit, Mary told us about her project in progress, Trees and Shrubs for the Southwest. I kept an eye on its publish date to pester her about when she'd be in Austin again.
Mary's native to Austin, but moved to Arizona, where for years she was Director of Public Horticulture at the Desert Botanical Garden in Phoenix. So, she's very astute about what grows in a widespread region.
Producing a weekly program is like gardening: looking ahead pays off!  This week, Mary meets with Tom to enthuse us again, with her beautifully written and photographed now-in-print latest adventure.
I can't get enough of this book.  Mary has the knack to combine specific horticultural details with hands-on, personable insight, including design ideas. Plus, she has a lot of great suggestions to renew our passion, despite the heat!
One shrub she mentions on CTG is Texas olive (Cordia boissieri).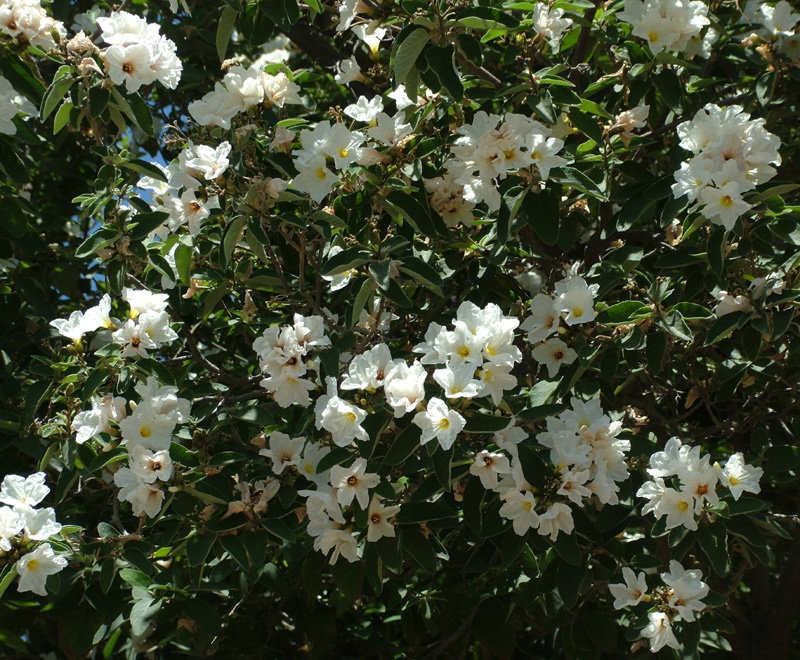 It was coincidental that the week after taping, one of my neighbors mentioned how much he loves his.  Here's my pictures of his growing in east Austin at his curb, obviously in hot reflected sun.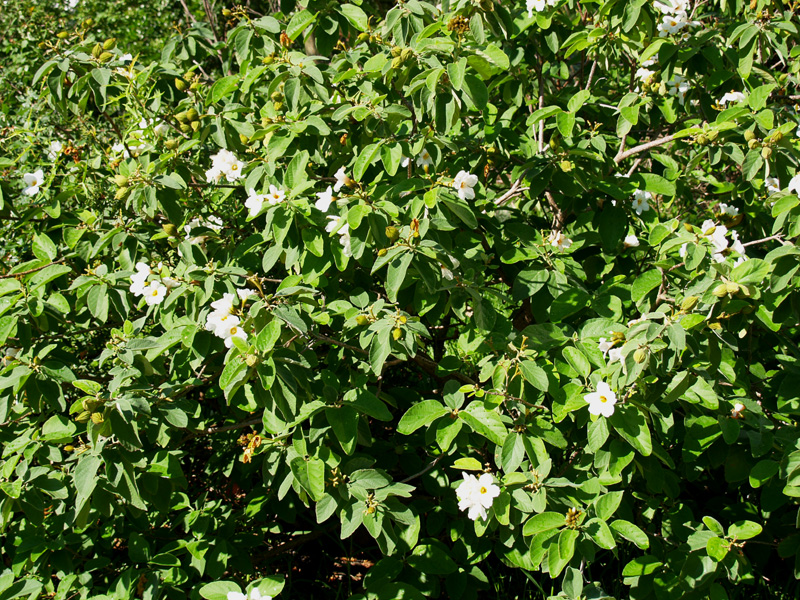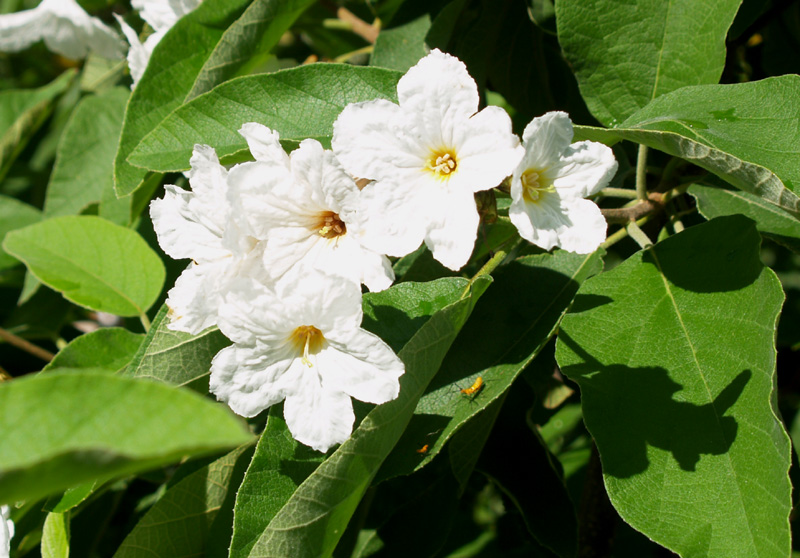 For more inspiration on these too-hot days, our video tour takes us to the Umlauf Sculpture Garden & Museum. We taped it last fall, so it's changed its scenery for the season. That is part of the captivation. On every visit to Umlauf, I fall under its reverent spell once again, but with Ed Fuentes' video, I was often in tears as I edited this one. Director Nelie Plourde is one of my personal inspirations, too, so this one means a lot to me.
I'd rather be sitting under the trees at Umlauf quietly communing with the sculptures than actually sweating in my garden. There sure is work to be done. I wonder what would happen if I put it off until November?
Well, I know the answer to that, so I'll venture into the steam bath for a few early hours this weekend. In the evenings, I'm too pooped to do more than a little watering and a tour around the "grounds."
Even in this record-breaking heat, I always find something that keeps me from throwing in the towel on gardening in Texas. (It does help to be IN a towel, after a cooling dip in kiddie pool).
In the crape bed, Bouncing bet (Saponaria officinalis) flowers recently topped their evergreen carpet.  Later, they got pinker. Lambs ears beyond.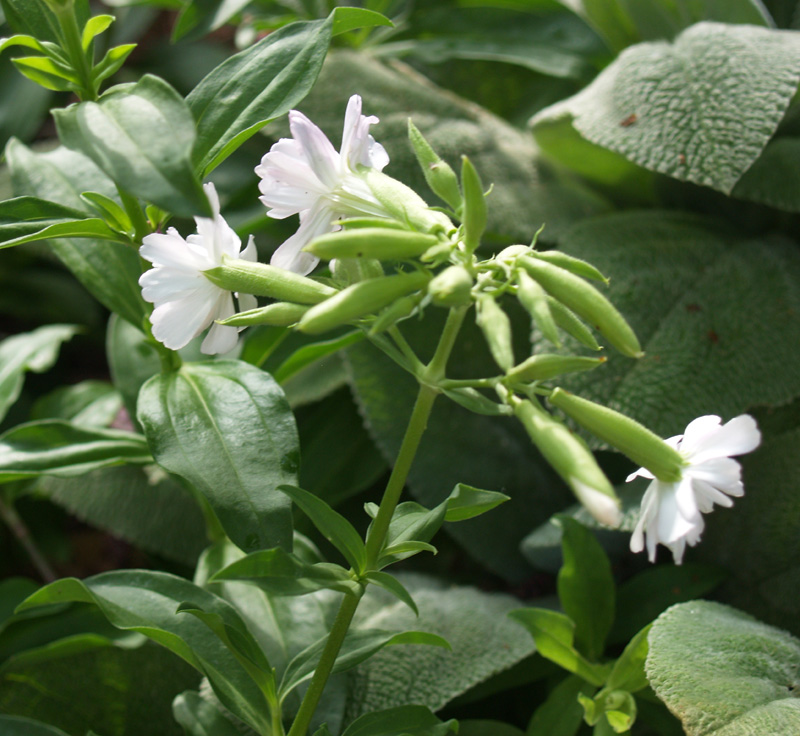 They're in the front of the bed, which gets morning sun with a few hits, and then a blast in the late afternoon. They do like to run, which is fine by me, since they're gentle runners in my spot.
But a rampant runner is the passionvine.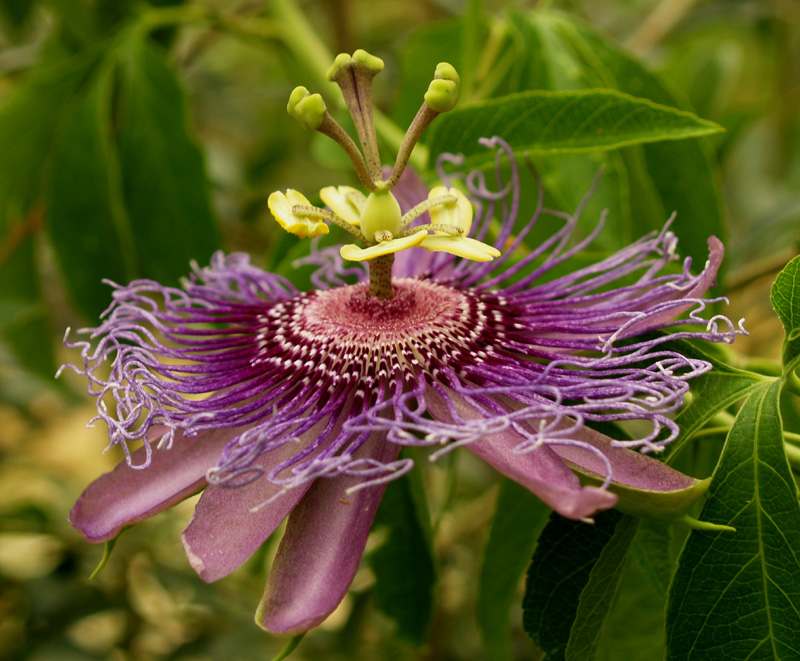 One of my chores this weekend is pulling it off the neighboring trees and perennials.
Still, we're harvesting a good crop of future Gulf fritillary butterflies.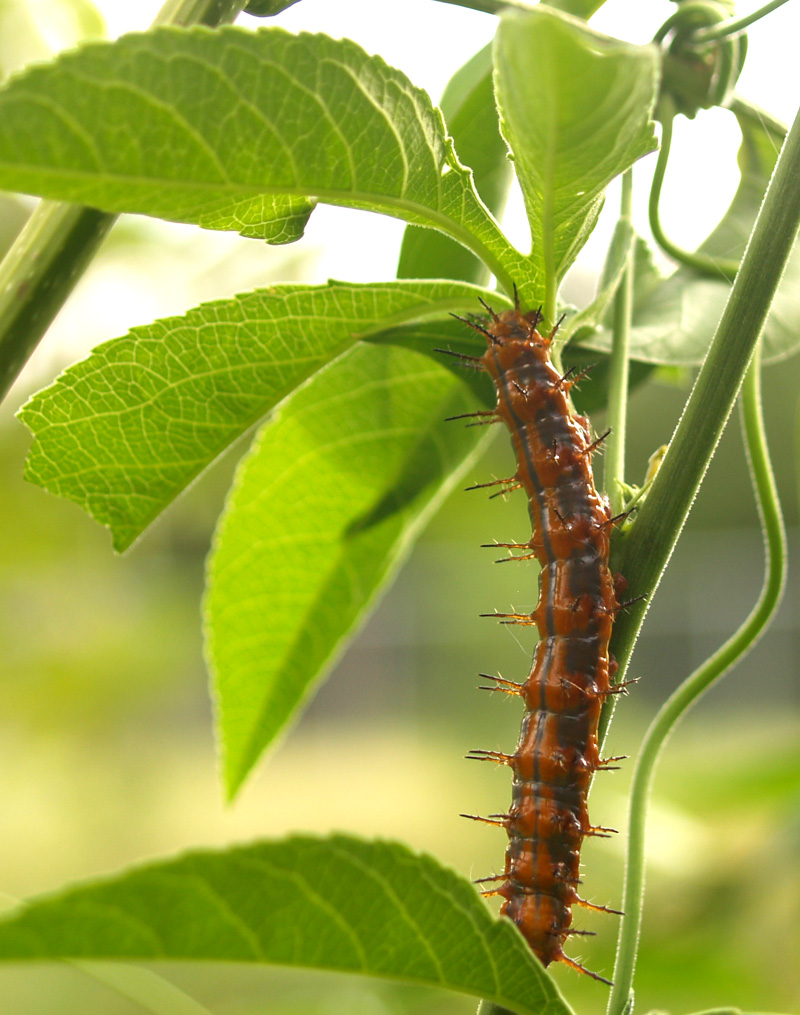 Once he/she eats enough to pupate, it will find a good hiding spot to transform into a chrysalis (moths are cocoons). One year, they were determined to do so on the garbage can. Thanks to advice from the Austin Butterfly Forum, I managed to carefully remove the chrysalides before trash day. One got stung by a spider within five minutes and died. The others successfully emerged.
After that, when I saw caterpillars on the trash bin, I coaxed them onto a stick and put them somewhere safer to transform.
These caterpillars are poisonous to birds, but that doesn't mean something won't interfere in the process that turns them into this: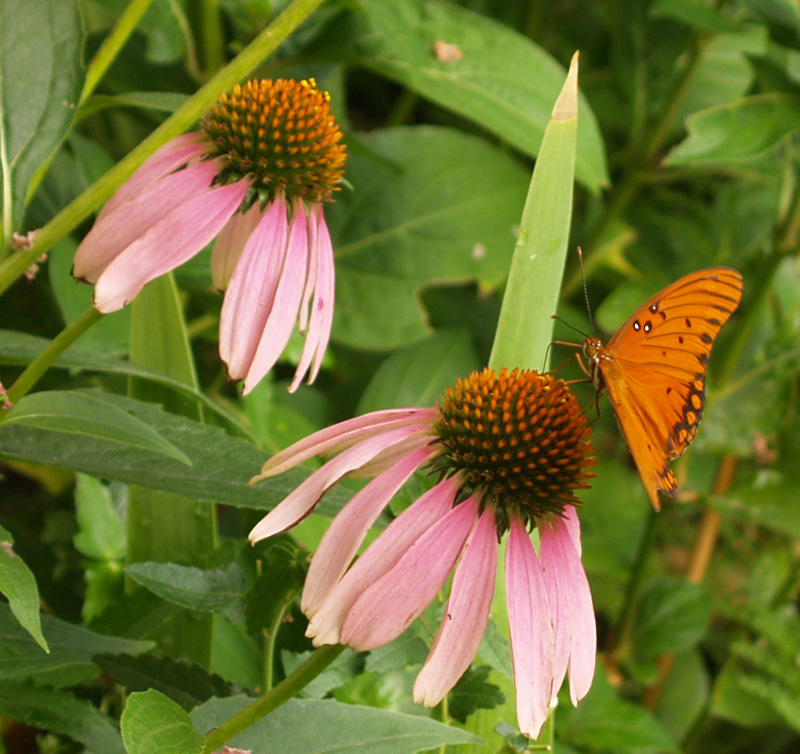 I had a hard time getting this shot of the Barbados cherries (Malpighia glabra) due to wind. But every time I went back out, the crop had diminished, so here's what I've got.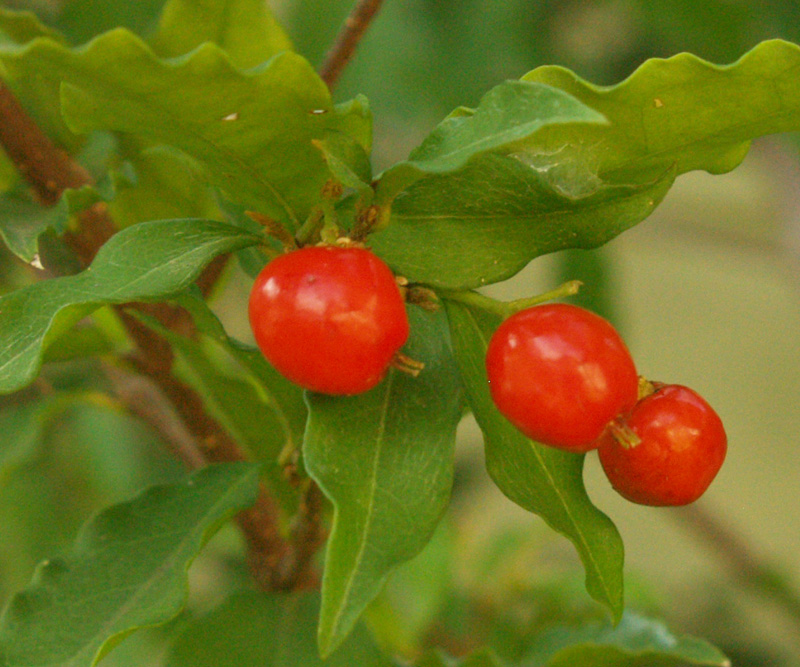 When their mouths aren't full, the mockingbirds have been spreading the word about this buffet. Here's a wide shot of the Barbados cherry in former photinia-ville, when it still had some fruit.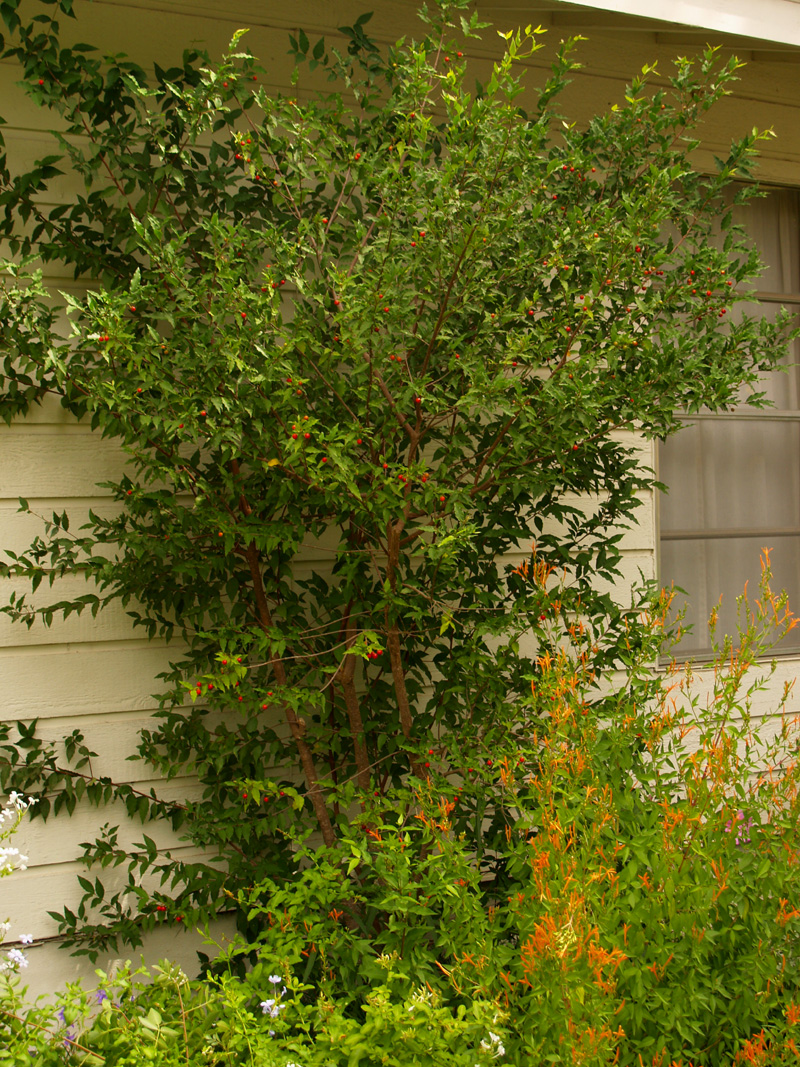 In Tom's interview, Mary gives us her reasons why she loves Barbados cherry.  In her book, get more details about growing it.
She also mentions Red Bird of Paradise/Pride of Barbados (Caesalpinia pulcherrima). Mine needs more sun to perform like the showoffs around town or in her book.  I treasure the flowers I do get. Am looking for a sunnier spot for it, though.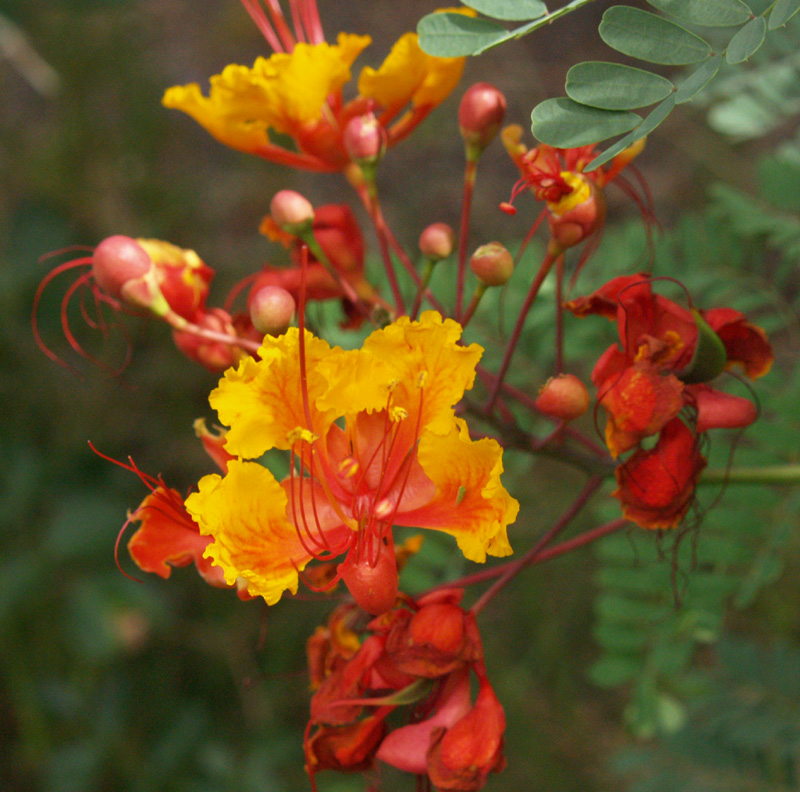 No pictures, but Greg reports that the hummingbird(s) love dancing through the birdbath fountain for a little shower.  A few years ago I got a mister when fellow gardeners told me the hummingbirds loved it, since they like to shower. I've never had much luck with it, possibly because our water pressure is so low, but I'll try it again this year. In the meantime, they seem to like the birdbath fountain.
Event note! Last year I attended the Travis County Master Gardeners' free seminar: Becoming a Garden Detective: Diagnosing Plant Problems. I plan to go again this year, since it's a great way to find out what's going on in the garden (insect/disease/wrong spot?)  It's July 11 from 10 a.m. to noon at Zilker Botanical Garden. Bring $3 for parking.
By the way, if your club or organization has an event, please submit it to CTG's web site for our calendar.
Until next week, stay cool,  Linda
Comments